What a wonderful summer evening to welcome Alice into our church community! An expectant multi-generational gathering from across Penlee Cluster gathered on the Feast Day of St Peter's at  Newlyn church. Relaxed, joyful and expectant. Alice, through the sacraments of baptism and confirmation, was going to affirm her desire to become a follower of Christ. All whom gathered prayed that God the Holy Spirit would indeed fill her life and heart for the rest of her days.
Reader John, who had died just a few days before, had prayerfully chosen hymns for the occasion wanting both Alice and the gathered church to experience through music times of quiet waiting upon God as well as hearts lifted confidently in songs of Praise: "How great thou art". We sang with gusto knowing that "nothing, not even death, can separate us from the love of God".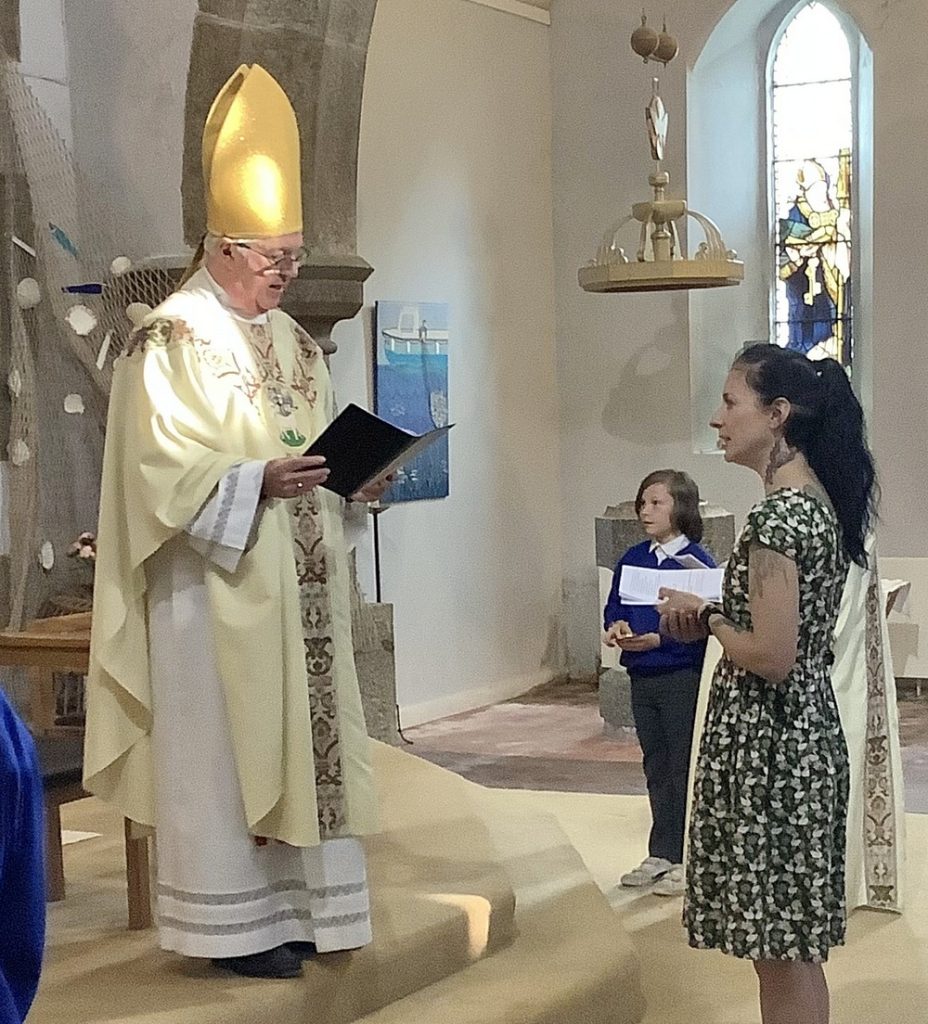 We were so blessed by having Bishop Graham James to lead this act of worship. He knew the area well having been a bishop in this diocese before becoming bishop of Norwich. Passionate and caring about his native Cornwall he reminded both Alice and worshippers that God asks us to step out in faith throughout our lives and it is fine to make mistakes as we "take the plunge" with God. God always forgives and accompanies us so that we can live out our Christian life fully and spectacularly. 
Many people played an active role in the act of worship offering their gifts to God and others. The music was beautiful (thanks Kevin and the choir). Reader Lesley sang a song about seeing God in all based on the St Francis "Canticle of the Creatures", which she had written and composed. Young people from our church school sang and helped throughout:  nine year old Jax taking on the role of "bishop's chaplain (or helper)". Alex was photographer on duty and we look forward to him making a video clip of the occasion as a keepsake of this event.
Alice was radiant throughout, supported by many family and friends. And her dad and husband could not have been prouder of the faith and life decision that she was taking: confident and thoughtful…and expectant of God the Holy Spirit.
We are so grateful for people at St Peter's for providing a wonderful buffet which gave us all an opportunity to chat with old friends and meet new people. Both Alice and Bishop Graham used this party time to have great conversations with all who had joined in this memorable act of worship.