Messages of Hope
Day 3 began with another early start.  I am a member of the General Synod Environment Group, and the group had a catch-up to start planning for the next Synod meeting in February 2024. We are especially keen to ensure our Care of Creation is resourced at local and parish level. So, we spent time brainstorming examples of good practise whom we could invite to a workshop to show case their stories. Here is Sue, Cathy, Tim, Ruth and Andrew engaging their brains in this way. Needless to say they were not allowed to leave the meeting until they had filled in a message of hope card too !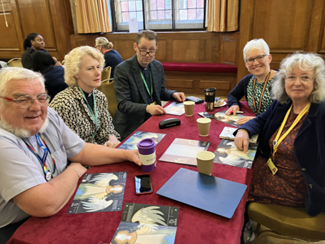 ---
Worship today was led by the Community of St Anselm. This Community was created by Archbishop Justin to give young people a profound experience of prayer, service and living in community. "It has been a transformative experience for those who've taken part – and for those of us praying, living and working alongside the community."
Here are three of the Community who led us in the worship – and they have all filled in a Message of Hope card and their messages will be part of the Angle Flight Path that we will be creating in our Cluster Churches for Christmas
---
The Business for Day 3 was almost totally given over to a debate on the next stages of Living In Love and Faith. The motion to be debated by the Synod was as follows.
'That this Synod, conscious that the Church is not of one mind on the issues raised by Living in Love and Faith, that we are in a period of uncertainty, and that many in the Church on all sides feel pain at this time, recognise the progress made by the House of Bishops towards implementing the motion on Living in Love and Faith passed by this Synod in February 2023, as reported in GS 2328, and encourage the House to continue its work of implementation.'
As in the previous debate in February there were many heart felt speeches from members and in particular those gay Christians who have experienced homophobia from other church members.
The first to speak was Julie who is a Local Licensed Minister in her local church. She has been in a same sex relationship for over 30 years and this June she married her partner. She did this in some trepidation as she was afraid that as a result of this marriage – this celebration of her love for her partner – might lead her Bishop to withdraw her license as a Reader in the church. As it turned out this did not happen and she remains a Reader. She shared this experience to highlight the anxiety that those who feel a calling to a vocation as a priest in the Church of England and who also feel a calling to marry someone of the same sex. At the moment the rules of our church will not allow this to happen. But part of the LLF process includes a commitment to re-visit this situation. Julie's speech was a plea to undertake this revision as soon as possible.
There were a number of arguments put against the whole principle of prayers of blessing for same sex couples.
One person argued that those Anglican Churches which had taken this step such as Scotland, Wales , Canada and USA had seen a drop in membership numbers.
Someone else argued that for the Church of England to go forward there was a grave risk that the Anglican Communion would break apart because many of the Anglican Churches in the Global South oppose this change.
Another claimed that to proceed would mean to go against the Biblical teaching that sexual intimacy can only be expressed in the marriage of a man and a woman.
There were as many speeches in favour of continuing along the trajectory that had been started with the motion that was passed in February 2023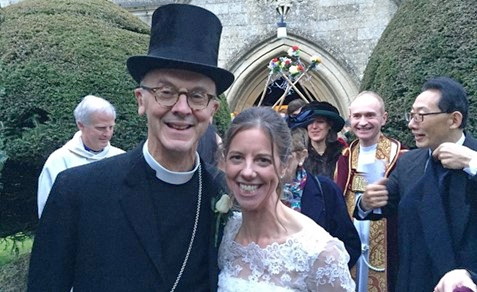 For me one of the most memorable speeches came from John Inge, the Bishop of Worcester. He spoke very personally about his situation. After the death of his first wife, he married again with someone who had been divorced. Some of his first wife's relatives had not been able to accept this and have stopped speaking to him as they believe that he has broken the teaching of Jesus on re-marriage of divorcees – as they see it. But his other family – the church he belongs to, has fully accepted him and affirmed  his new relationship. The effect of the new relationship has felt to him like a journeying from the wilderness to the promised land – one that has clearly been life enhancing  for him and his second wife. He saw parallels in his experience with those gay Christians who were rejected by some in the church on the basis of a particular reading of the Bible. In spite of this some of these Christians had found a welcome in other churches and what is more they have been found to make positive contributions to the life of these churches.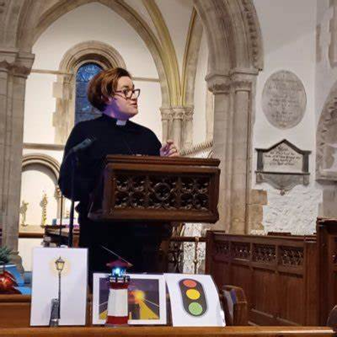 From the Biblical perspective I found the most helpful speech came from Revd. Arwen Folkes, who had served as a curate in St Mawes in the Truro Diocese. She asked us to think of the account of Jesus healing the person with the withered hand in the Synagogue on the Sabbath. Here we see  Jesus willing to go against and overturn the very ancient law and traditional rules going back to Genesis about what could and could not be done on the Sabbath. He did this because he wanted to bring wholeness, restoration and life to the person who had been excluded by the religious authorities of his day. Arwen argued that in our time we should be willing to set aside the religious tradition we have been used to if this was going to bring restoration and life to members of the gay community.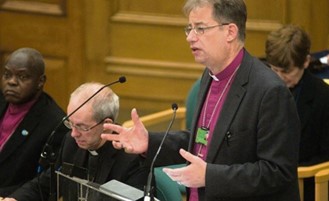 The debate lasted over 9 hours because many amendments were tabled. Most of these were from the more conservative minded members and were in effect attempts to delay the whole process. They were all defeated. Just one amendment was passed – proposed by the Bishop of Oxford. This ' …asked the Bishops to consider whether some standalone services for same -sex couples could be made available for use, possibly on a trial basis in the time-scale envisaged by the motion passed by the Synod in February. '
So the final vote on the amended motion was taken. To be passed it needed to receive a majority in ALL three houses of the Synod The result was
House of Bishops; For 23, Against 10, Abstentions 4.
House of Clergy; For 100, Against 93, Abstentions 1.
House of Laity; For 104, Against 100, Abstentions 0.
And so it was passed – leaving the Bishops to continue their work in producing the revised pastoral guidelines and with the possibility of some Dioceses allowing stand alone services to take place on a trial basis. I believe this is a good thing. It will allow the church to experience these blessing services and hopefully the familiarity will lead on to a reassurance to those who are fearful and to a wider acceptance – in just the same way that the church came to accept and then welcome women priests and then women bishops. Watch this space !
---
ANGEL FLIGHT PATH MISSION – MESSAGES OF HOPE .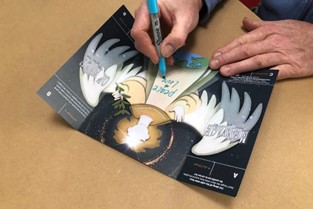 While at Synod I was tasked with trying to get as many varied signed Messages of Hope from people at the Synod.  I got a selection of different contributors –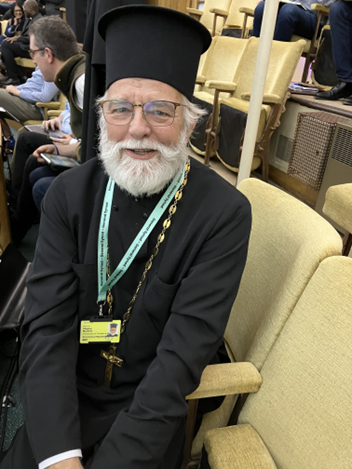 Including Father Stephen who is the Greek Orthodox Observer at the Synod.  Bishop Guli who is the Bishop of Chelmsford. We have a message too from Revd Bruce Bunyan Scott who is the Anglican Vicar of St Thoams Church, Kefalas on Crete.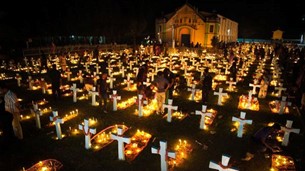 And we also have a message from the very top .. Archbishop Justin himself.  I approached him at the end of Day 2 with a … ' you probably won't remember me but I am one of the vicars from Penzance who took you on the Penlee Lifeboat …. And who also took you to knock on doors on Barwis Terrace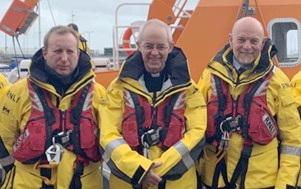 .. He did remember that day in the Penlee Cluster with great affection and was more than delighted to write his Message of Hope for us for our Angel Flight Path project… Come and see if you can spot it in the collection.