with the Revd Andrew Yates
It is very unusual for the General Synod to meet in November – This only happens when there is a back log of business that needs to be considered .. and this year has turned out to be one of those and so I found myself weaving my way courtesy of GWR to London to gather with the other members at General Synod. I travel with some trepidation on two accounts .. We will be meeting in a building just a stone's throw away from Central London which featured so much in the media last weekend with the March of Peace … the Battles between police and right wing groups … and the solemn Remembrance Sunday commemoration at the Cenotaph. I wonder what emotional after taste will hang in the air following these events.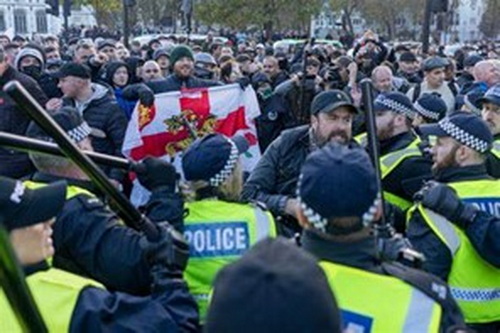 And secondly because some of the discussions in the Synod will be on the issue known as Living in Love and Faith. Earlier this year in February General Synod passed a motion that seemed to endorse a set of prayers that could be used in church for a series of special occasions which would include prayers of blessing in a church on a couple who had undertaken a same – sex marriage at a Register Office. Many of us thought that all that was left was for the House of Bishops to do a review of the prayers and then issue them for use.

However somewhere in the intervening 9 months there has been a change. And what is being now put forward is quite different … It is proposed that the prayer should go through the full Liturgical Business protocol which will involve consultation in every Diocese and a final vote at the General Synod probably in 2025 which would require a two-thirds majority in all three Houses of the General Synod ! This dramatic shift has gone down well with some – especially those who do not want to see any change … and not so well those who believe the church should be able to affirm the love that exists between two people including the love within a same sex relationship. Someone once famously said..'You can't please all the people all the time ' … But my personal hope and prayer as we gather is that we might as a Church be able to find a positive way to agree to disagree and allows the consciences on both sides of this debate to be honoured and respected.
The proceedings began as usual with a Welcome to New Members And among these are two new clergy representatives from Diocese of Truro who have just been elected in a by election to replace my original fellow representatives who left the Diocese. I am looking forward to sharing the responsibility to be here on behalf of Cornwall and especially its clergy with Jeffrey Terry from Camelford and surrounding villages and Will Harwood from St John's Church in Truro.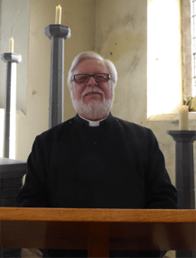 ---
General Synod always begins with an address by one of the Archbishops – On this occasion we had buy one get two free ! Archbishop Justin began with reference to the War in the Middle East and with a passionate plea that all bloodshed must cease. Believing that every person, each person is made in the image of God means that we have a responsibility to both speak out against all such evils, and to live out against all such evils, and to play our part in building bridges across communities.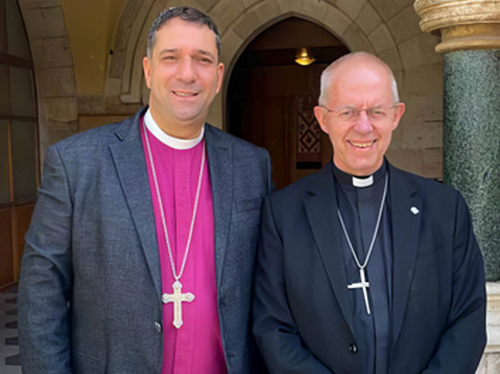 And the church must always pray. For when we pray, we are turning away from the delusion of self-sufficiency and saying that God is in fact in charge. As a theologian once put it : 'To clasp the hands in prayer is the beginning of an uprising against the disorder of the world. Prayer can put the world back on its hinges. So with our brothers and sisters in the Holy Land, we weep, we grieve, we lament and we protest. And we pray – for justice, for reconciliation, for hope, and for peace.'
We were then addressed via Video Link by Archbishop Hosham Naoum the Anglican Archbishop of Jerusalem who is a Palestinian Christian. The Diocese of Jerusalem is a Church, a small church, that witnesses to Jesus Christ in times of great pain. The staff of the Anglican Al-Ahli hospital in Gaza continue to this day to provide medical care despite enormous personal risk.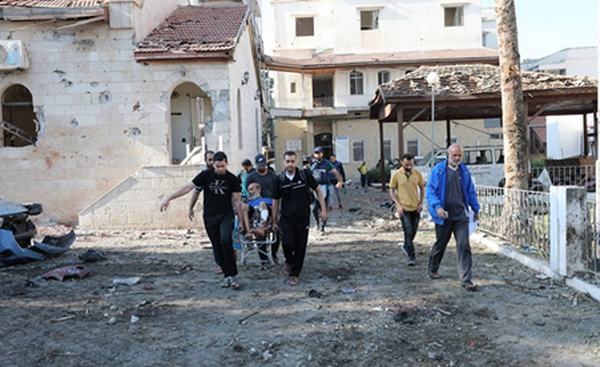 In a moving speech Archbishop Hosam said 'So if we are really concerned about the security for Israelis and the self determination of the Palestinian people for a free and enduring and durable state in the future, we need the efforts of everyone around the world, that we may focus on the day after the war, where peace – a just and lasting one – will be the only way forward for the end of the cycle of violence here in the Holy Land.'
---
Part 3 of the Presidential Address was given by Stephen Cotterell the Archbishop of York who was prepared to tackle head on the issue that seems to divide the Church of England at this time. He admitted that in different ways, and for different reasons, and to different degrees, many of us have arrived at this Synod feeling weary, fearful, confused, even angry about it all.
So his ask of us as Synod Members is to strive to see Jesus in each other as we speak to and about each other. We should start by acknowledging the one thing we do all agree on that we want our churches to be places of welcome for everyone.
He quoted Rowan Williams who said that in order to see Christ in each other in these situations we have to turn to an authority that we both accept, which is the place where we need to see Jesus more than ever: upon the cross, the place from which he sees us and breaks down the barriers between us.
Anticipating the forthcoming debate he said,' This must never be about winners and losers. I am committed to the flourishing of the whole Church, but it will be together, with our differences, that we will be the body of Christ . '
---
One of the entertaining parts on Day 1 is the item called QUESTIONS. Any member of Synod is allowed to submit a couple of questions on any issue related to the work of the Church of England. In response we see Bishops and Church Officials often giving answers that remind me of Geoffrey Boycott in one of his long defensive straight bat innings..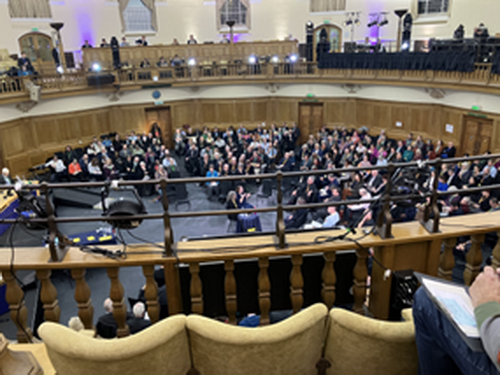 At this session 226 Questions were submitted and the first 95 were all on the topic of Living in Love and Faith. Sadly some of these questions were clearly designed either to make political points ahead of the debate or to attempt to catch out the lead bishop. But Bishop Sarah , Bishop of London stood her ground and was 'not out' when stumps were drawn and the Synod headed to Evening Worship to bring Day 1 to a close.