Readings: 1 Thes 1: 1-10 and Matthew 22: 15-22
A prayer for the Holy Land at this time of conflict.
God of judgement and mercy, compassion and steadfast love,
look tenderly on your children at war in your holy land.
Still the souls bent of vengeance and destruction.
Change the hearts plotting death and devastation.
And let all who trace their past back to Abraham
find their common future in you.
Through Christ your Son our crucified companion forever.
Raise up leaders within the warring parties and in the international community,
who can turn violence into reasoned argument,
and listen to the pain until a way forward emerges.
Make us see what we have in common so much more than what divides us. Amen
---
Website of the Week:
Life, Death and Neighbours
Former Archbishop of Canterbury, Dr Rowan Williams, has given six inspiring talks on modern Christian meditation and the desert tradition, drawing on the spiritual teaching of Benedictine monk, Dom John Main. In these talks, he reflects on the wisdom of the Fathers and Mothers of the Egyptian Desert in the fourth century, from which the tradition of Christian meditation has emerged.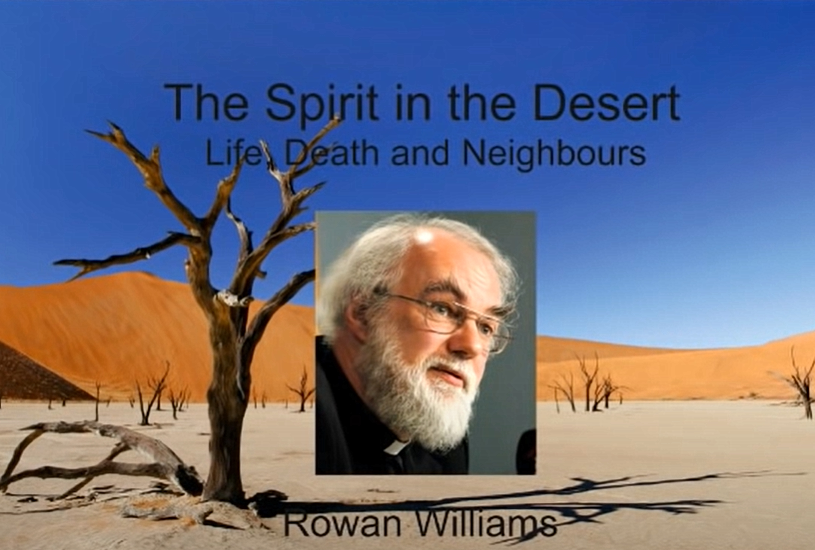 He reflects on questions that deeply touch our modern lives. How do we live in relationship with others? How do we discover the truth about ourselves? The first of these talks is about our relationship with our neighbour – a recurrent theme of the liturgy in recent weeks.
---
Bereavement support group
Footprints will be held once a month on Monday afternoon: 2pm-4pm from November 6th: posters available soon.
---
Churches together in the Penzance area
Forum meeting
Tuesday 24th Oct 7 pm High Street Methodist Chapel.
Alice is the guest speaker followed by Q&A session: opportunity to find out more about Night Church at St Mary's.
---
A Real Living Wage to Challenge Poverty in Cornwall
It's been Challenge Poverty Week (16-22 October) an annual event which encourages policy makers and leaders from organisations such as Cornwall Council to go out and visit the organisations working to support our communities.
Last Friday Charity groups led a cross sector event to encourage Cornwall leaders to work together as the first Real Living Wage place. Figures from November 2022, Citizens UK suggest that 13% of all workers in Cornwall are not paid the real living wage (about 25,000 workers). If 25% of those not paid the real living wage were uplifted to receiving the Real Living Wage then Citizens UK say this would mean a GVA uplift of £11.2 million pounds (based on one year Nov 22 to Nov 2023). There is therefore an individual and business economy benefit to this campaign.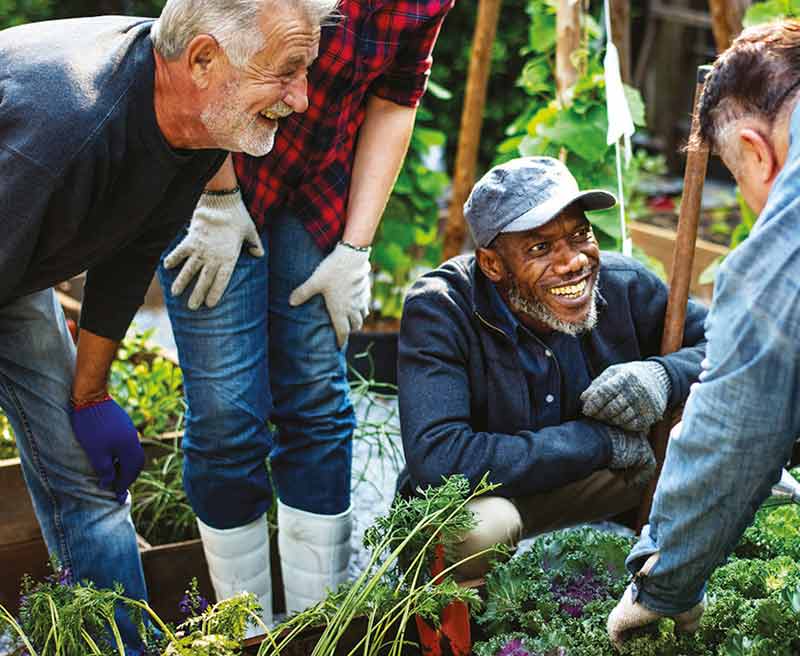 Andrew Yates in his role as Chair of the Cornwall Independent Poverty Forum said, "We were delighted to hear from so many organisations committing to join us in the campaign. This week Glen Carne, a charity providing accommodation for vulnerable people, committed to Real Living Wage, so we are seeing results already, which is excellent."
---
Eco-Church awards for cluster churches
Among the issues that Churches have to be active in to gain an Eco Church award is our personal lifestyles and the way that we personally are demonstrating our Care for God's Creation as part of our living out our Christian Faith. So in the next few weeks we will be running some suggestions on things we can do and we start with tips on saving energy. Saving energy is important because this also saves production of CO2 into the atmosphere…. as well as saving us money !
The Energy Saving Trust suggests some fairly simple, quick wins.
1. Top of the list is using smart heating controls. Most energy companies will provide these free to use and monitoring them can make us aware of ways we can save energy.
2. Turning down the thermostat on our heating – and putting on a jumper instead.
3. 'switching off standby' Perhaps most shocking is how many things are left on standby each night, TVs, broadband routers, computer monitors, printers, laptops, games consoles or smart speakers all consume small amounts of energy whilst on standby. Even chargers plugged in but not in use consume energy (and the life of the charger is shortened).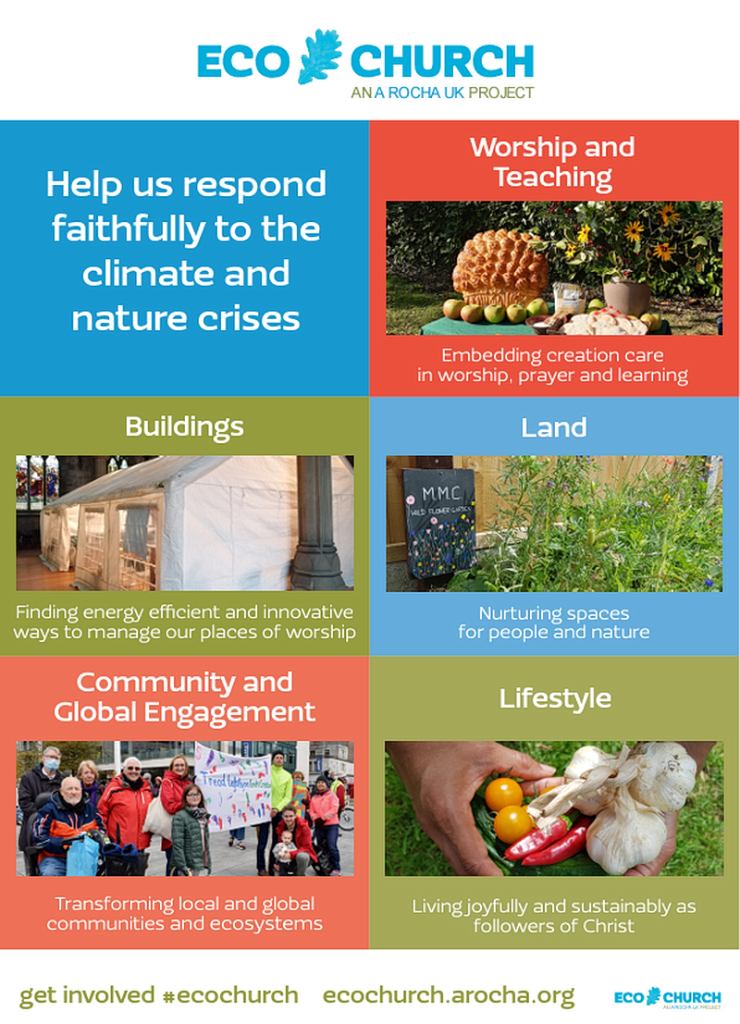 ---
NightChurchPZ
will open its doors for the first time on Saturday 11th November, 8pm-3am. Please pray for this venture.
If you are intending to help then before that date, we would like to get CRB checks and online safeguarding training completed.
On 31st October St Mary's will be open from 3pm – 7pm for you to drop in (you won't need to be there for the entire time). During that time we will copy your documents for CRB checks and complete the safeguarding training on one of our laptops. There will also be a basic form to fill in with contact details etc, and soup for anyone who's peckish!
If you would prefer to complete the safeguarding training in your own time I will be sending out the link via email, along with the contact details form for anyone who is unable to make 31st.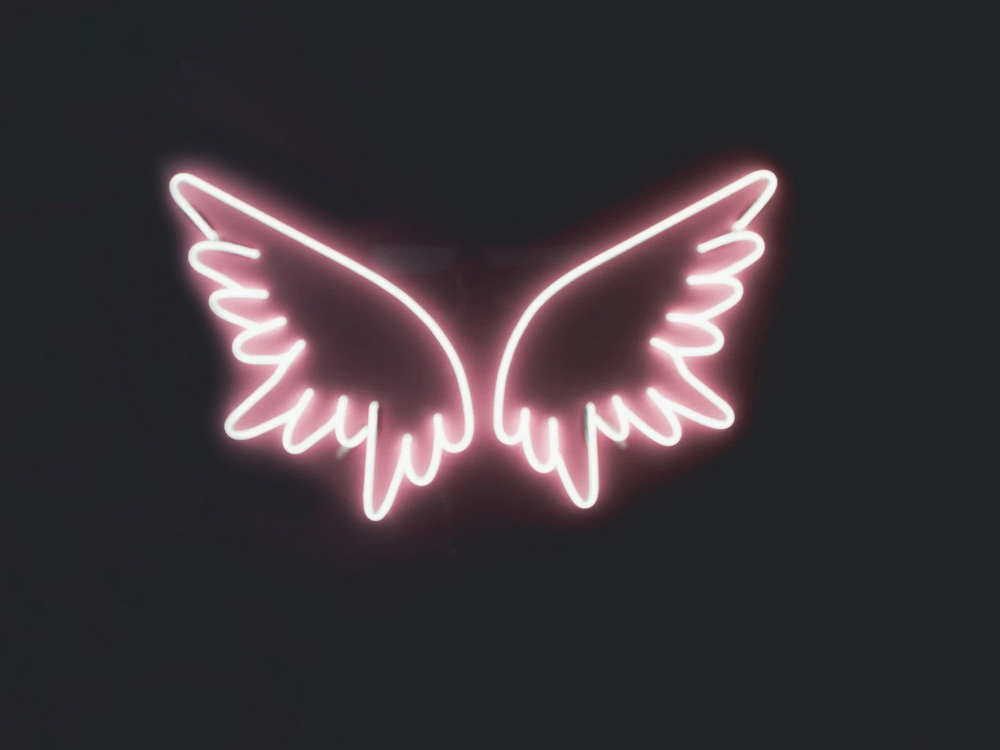 Grant award for NightchurchPZ
We have received a grant of almost £5k towards our Nightchurch project from the diocese of Truro. We are very grateful for this as it really helps with the financial pressure of running such a venture of providing a space of welcome and hospitality throughout the night.
---
New family worker
We are so pleased to announce that we have appointed a second Rainbow Cluster Family Worker. Jane will be writing an introduction to herself for the next newsletter. She will begin work with Penlee Cluster in a month's time.
---
Christmas Angels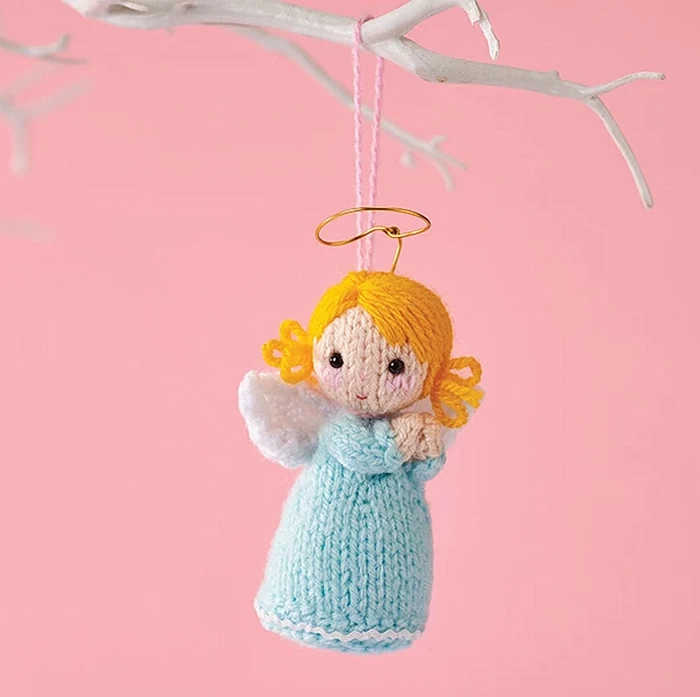 Could you be an angel and knit some angels for us? We are intending to set up 3 angel trails around Penzance, Newlyn and Mousehole as part of our Christmas preparations. Here is a suggested knitting pattern but please feel free to use your own.
---
Open House Christmas Day Lunch
We are delighted to announce that this wonderful event will be taking place at St Mary's church PZ once more. If you would like to offer help then please contact Keno.
---
Some of the Christmas arrangements across the Cluster
The St Nicholas event this year will be at St Peter's combined with Role Play and Father Christmas on Saturday 2nd December from 10am to 12pm at St Peter's Newlyn.
Christmas Carols Event: cafe style: Sunday 10th: St John's at 10am. No service at St Mary's and St Peter's on that date.
Christmas Eve 24th Dec Wild Christmas at the Quiet Garden in Paul at 4pm.
---
Paul church art exhibition.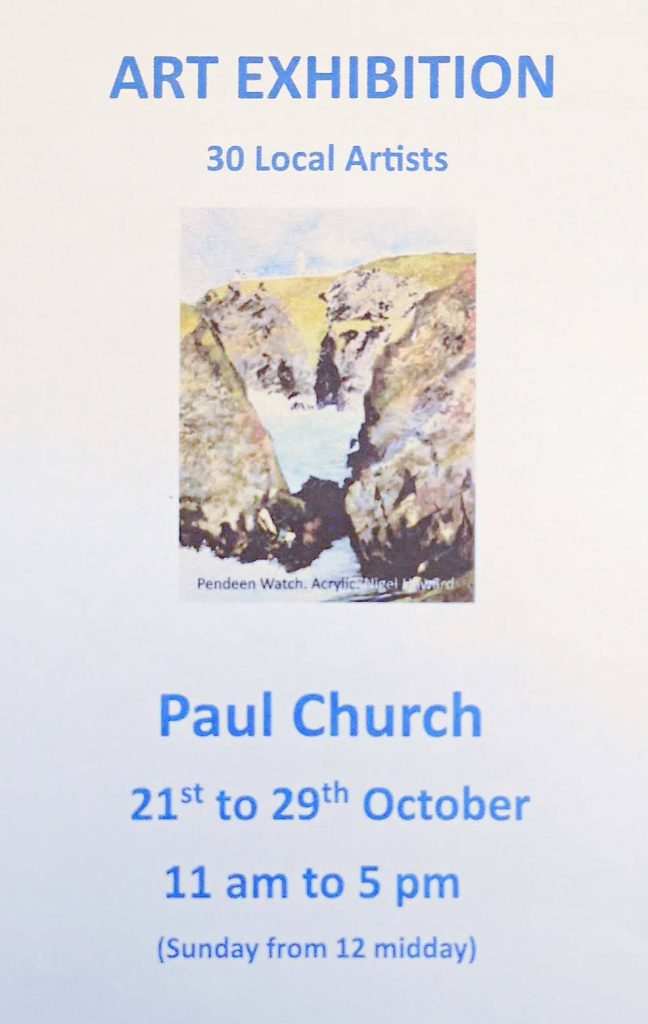 ---
Death of Archdeacon Paul
It is with great sadness that we announce the death of The Venerable Paul Bryer, Archdeacon of Cornwall.
Bishop Hugh Nelson, acting Bishop of Truro, said: "Paul's confidence and faith in Christ shone through everything he did and everything he said. Whether it was cycling, preaching, doing the work of an Archdeacon, walking with his beloved dog, Molly, or praying quietly, he did it for God. It has been a great privilege to serve alongside him in this wonderful diocese, and he will be much missed."
Diocesan Secretary Simon Cade said: "Paul came to us with a love for Cornwall and its people, and a passionate belief that God had called him here for this time. In the darkest days of the pandemic it was often Paul's reminder of God's enduring purposes that recalled us to a hope that, though sometimes veiled, gave profound comfort and strength to many.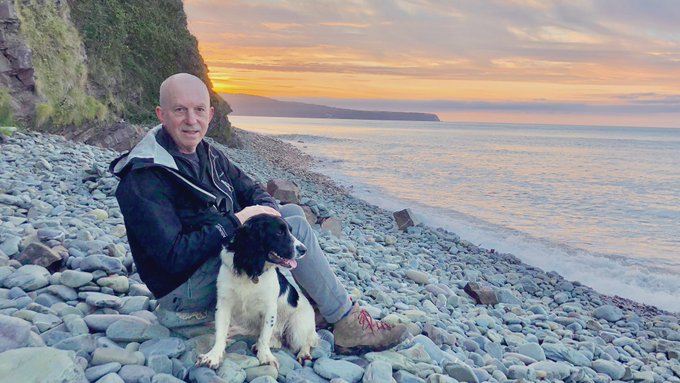 Whether it be surfing with his three children at Harlyn Bay or exploring the South West Coastal path with his treasured wife Fiona, Paul loved nothing more than being outside in God's creation. A lifelong supporter of 'the Saints' (Southampton FC), Paul often said he had three great loves – faith, family and football.
Paul will be deeply missed by his wife, Fiona, their three children Daniel (and his wife, Nisha), Naomi and Jonathan, as well as his brother John and his wife Sue.
---
Cornish Christmas Giving catalogue
The Breakfast Project is one of the community groups that is featured in this year's Cornish Christmas Giving Catalogue now available on-line at
The Catalogue also includes the PLAYZONE and the Fishermen's Mission among the projects you can support.
Ivor the coordinator of the Churches Together Breakfast project for the homeless is supporting Challenge Poverty Week and preparing to cook the bacon and eggs for what can be as many as 16 visitors.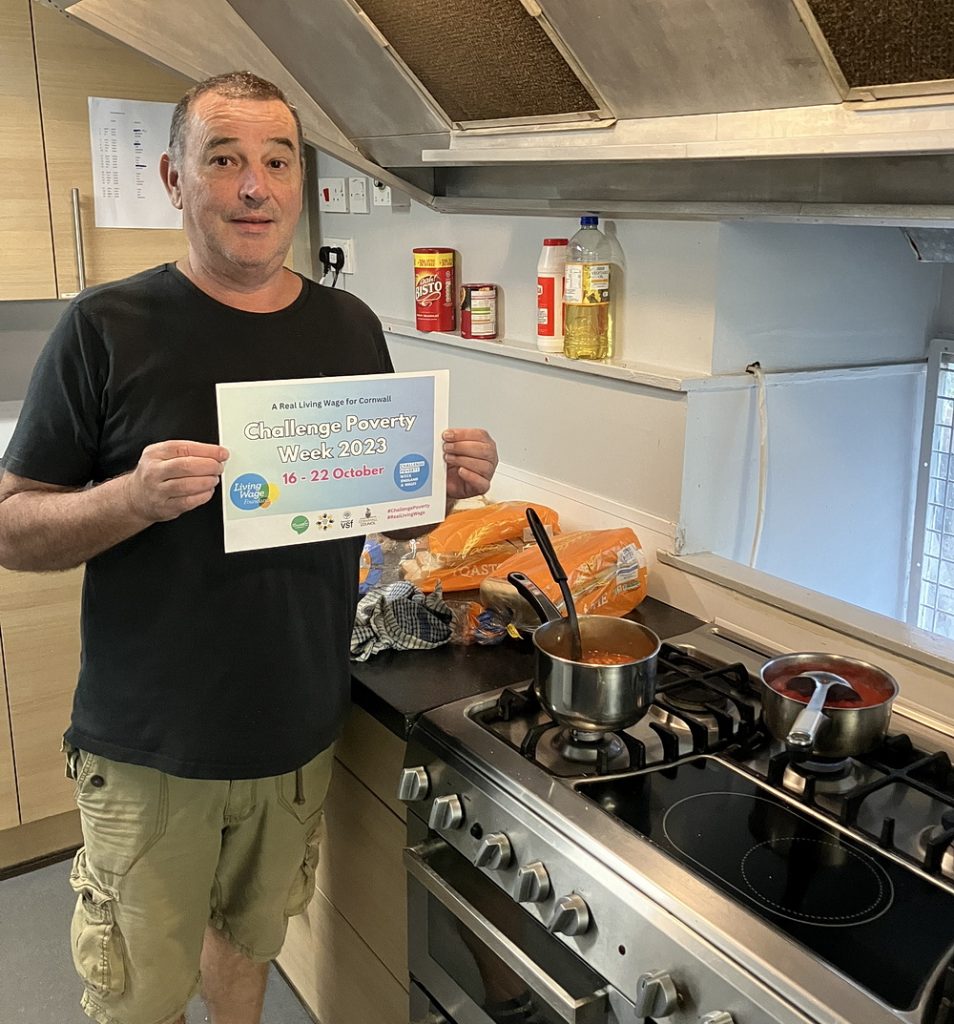 ---
Pastoral ministers:
training and support.
Workshop on Self Harm Awareness.
Tues 31st Oct at 1pm at St Mary's church PZ
---
All Saints and All Souls Day
Names to be prayed for on All Saints and All Souls' Day
There will be a special All souls Day act of worship in our churches on Sunday 5th November (October 29th at Paul church). On that day we remember before God all those who have died and have been a very important part of our lives.
If you wish to have someone prayed for please can you place their name on a list which can be found in each of our churches.
---
Friends of Penlee cluster churches AGM
The agm will take place on Sunday October 22nd at 4pm at Paul Church and on zoom.
---