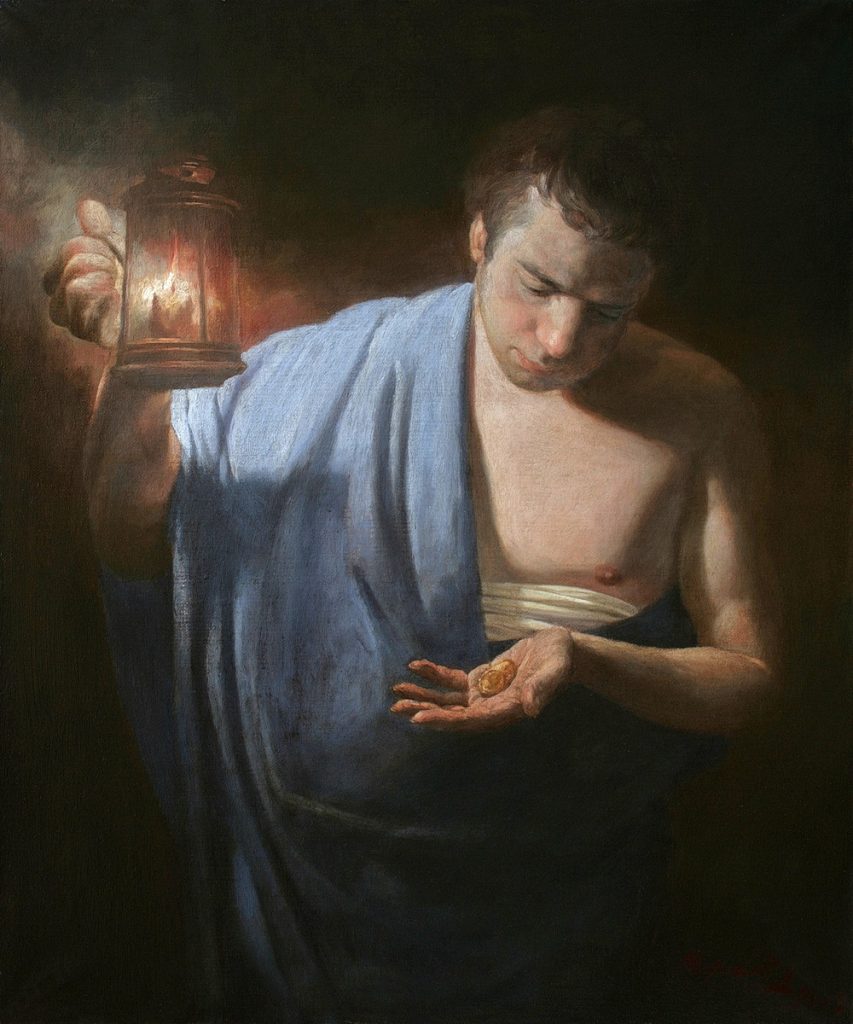 The Parable of the Talents, depicted by artist Andrei Mironov.
Using our Gifts
Matt 25: 14- 30
I wonder what gifts or talents you believe you have? And I wonder if you ever thank God for your God given gifts? The reading today helps us to reflect on how we use our gifts and time.
---
NightChurchPZ

NightChurch, a new initiative to provide a warm and welcoming space for homeless people in Penzance, launched on Saturday, November 11th, despite the torrential rain. The event was a success, with 12 volunteers attending and around 30 volunteers now signed up to help.
The organizers were surprised that despite the weather, which would have made it difficult for homeless people to get dry again, 10 or so people came to see what NightChurch was all about. Music was played on the piano, many toasties were made, and three knitted angels were created.
Erwin and John led a workshop where visitors and volunteers made sycamore seeds out of withy canes, which they will use to construct a crib. There has been a lot of talk about NightChurch and a lot of buzz on social media. The next event will be on December 23rd.
New NightChurchPZ worker role.
We are delighted that we have funding to employ someone to work with people on the edges one day a week. Ideally we would like a pioneering minister working half time but have not been able to obtain necessary funding. More information once the Penlee Cluster Trustees have met.
---
The gospel of Mark
Thursday 30th November 2023, 11.00am – 2.00pm (note date change because of a funeral)
I invite you to join me in a reflective overview of the Gospel of Mark, which is our Sunday gospel for the current year (Year B) of the Revised Common Lectionary. We will meet from 1100-1230; have a short break for lunch; and then a second session from 1.00 – 2.00pm.
---
Synod
Revd Andrew Yates has been attending the synod in London this week.
You can find his daily reports below.
---
Advent retreats in the Penlee Cluster
Come, Lord Jesus
Friday 8th December 10.30 am- 3.30pm: St Mary's church PZ
Advent, a time to be aware, alive, attentive, alert, awake.
It's a call to be fully engaged in life today and to be fully aware of God's presence.
Do join us for this day. Lunch provided.
Please sign up.  List in Cluster churches or email to admin Keno
OR
Advent online retreat, based on Julian of Norwich,
November 25th via zoom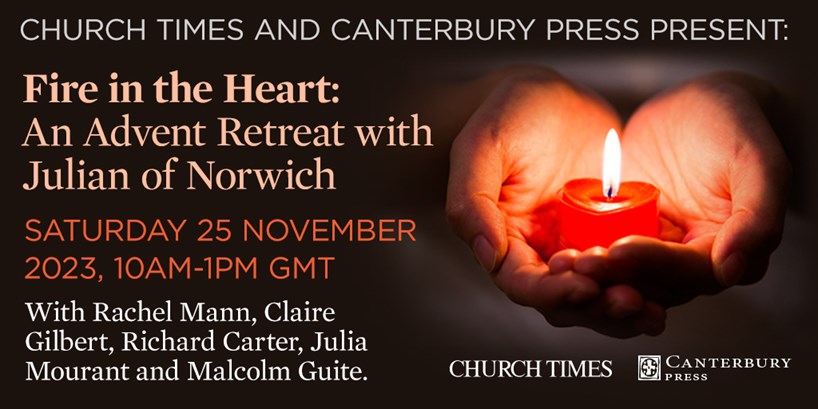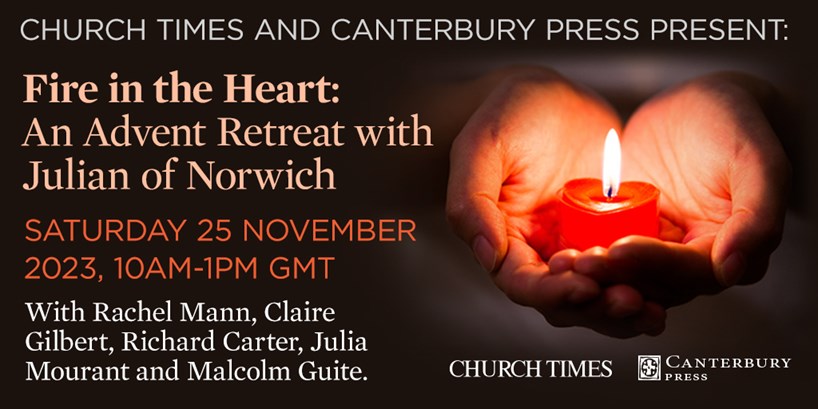 The link below gives all the details, and where you can book in if you wish.
https://www.churchtimes.co.uk/fire-in-the-heart-an-advent-retreat-with-julian-of-norwich
---
Christmas 2023 in the Penlee Cluster
Have you seen our Angel cards? I do hope that you are excited by them….they are beautiful and a great way to encourage people to pray for peace, write peace prayers and poems.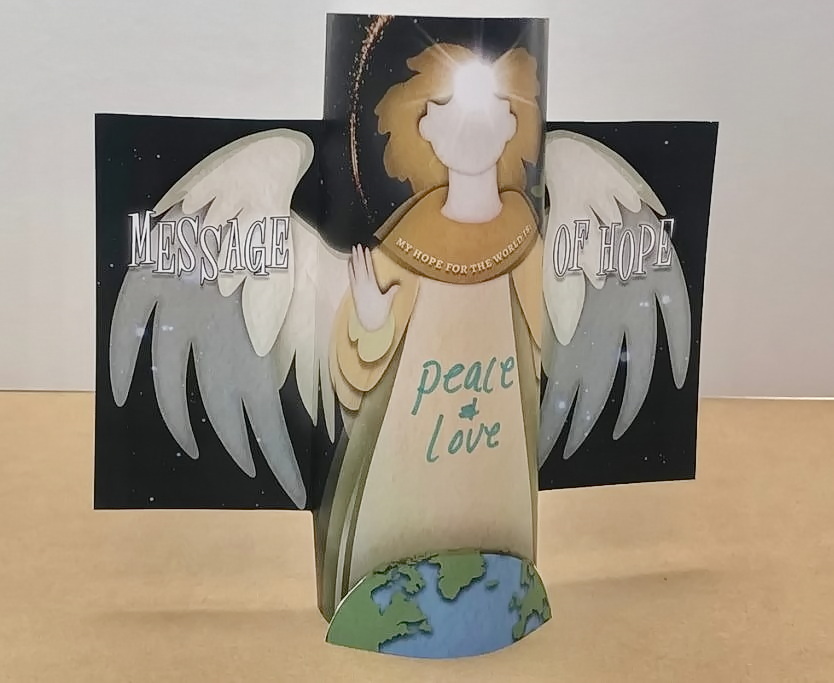 Please get your family and friends to send you messages of peace from all over the world as we prepare for Christmas and the birth of the Prince of Peace. Then write the messages on one of the Angels and hang it in church….put a sticker on the map of the world so that we can have a visual reminder of where the messages are from.
Angel cards will be available in our churches from Sunday 19th November.
A message from Archbishop Justin written on an angel at the synod this past week.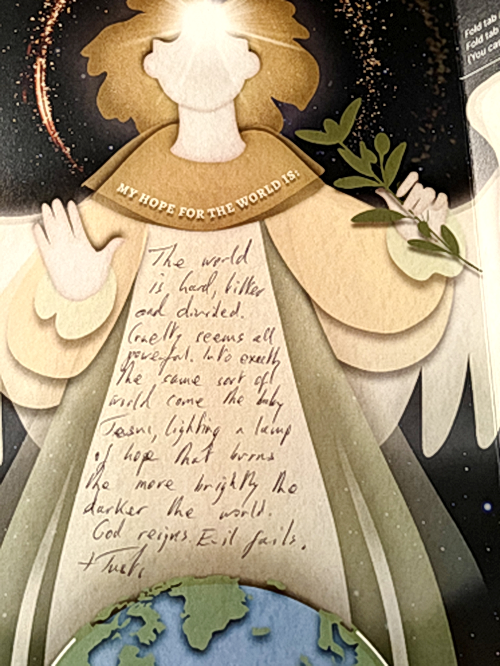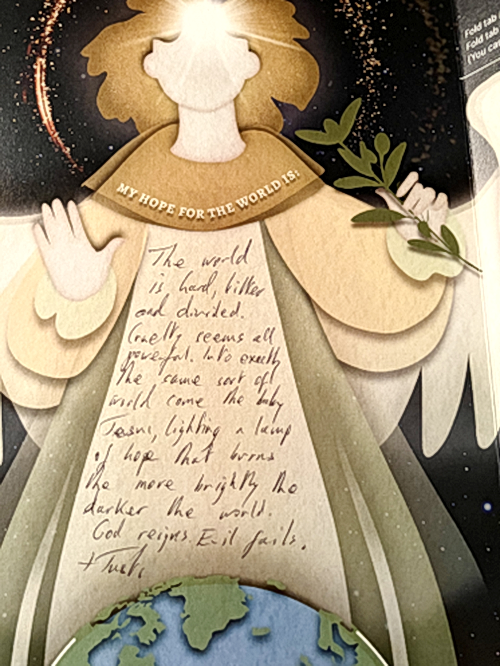 The world is hard, bitter and divided.
Cruelty seems all powerful.
Into exactly the same sort of world came
the baby Jesus, lighting a lamp of hope
that burns the more brightly
the darker the world.
God reigns. Evil fails.
+Justin
---
Linking with MusicAbility: church and school

We now are offering 18 young people at St Mary's school the chance to have one to one strings lessons. St Paul's Trust has provided a grant to help offset costs of tuition, instrument and music stand. This is a wonderful opportunity for the youngsters. We are also hoping that we can provide choir training for the youngsters to help with a broader music experience.
Adults in the cluster churches could help with this vision by offering to mentor a youngster…being the adult that meets up with them every half term to show an interest in their musical journey and to eat cake and a drink with them (at school or church and in a group). If you feel you could offer this help please contact family worker Molly.
To find out more about the work of the Penzance based Musicability Foundation visit their website here.
---
An invitation from Canterbury University
Faith in the Nexus webinar, "How do adults nurture children's spirituality in church toddler groups?", will be held on Wednesday, December 6, 2023 from 3-4pm. This webinar will explore how the adults within church toddler groups intentionally or unintentionally nurture young children's spirituality. The webinar will share the research findings from a study of church toddler groups and argue that a lack of understanding of the nature of young children's spirituality needs to be addressed to enhance opportunities for moments of spirituality within the toddler group sessions.
---
From Family worker Molly
As you are aware I launched a referral form last month for supporting local families within West Penwith. The referrals came in fast and I'm currently supporting 11 families over the three days. Might you be able to provide a tin of Christmas chocolates or a Christmas gift that could be given as a gift to the families we support and to children attending holiday clubs?
We are also looking for gifts for people who will attend Christmas Lunch on Christmas Day. Gloves, socks, hats, scarves, pants. Etc
If you feel able to offer support to a local family by offering to meet for a coffee, offer of friendship or practical support please contact family worker Molly.
Request for support with Christmas gifts for local vulnerable children
As you know Molly is organising a pre Christmas party for some local vulnerable families on 20th December.
We expect around 12 children aged between 2 and 10 to be coming with their mums and we thought it would be wonderful to give each child a gift. They may not be expecting to receive any gift at all this Christmas.
We will be able to source gifts from a national supplier at a heavy discount and so we wondered if anyone would like to donate towards a child's gift.
We would be buying age and gender specific gifts up to a maximum value of £10 per child.
If you would like to support this and make the party and Christmas even more special please contact Molly Blewett at
molly.blewett@penleecluster.org.uk
or Alan Gibson at alanandkaren2020@gmail.com.
---
Iona service for Christ the King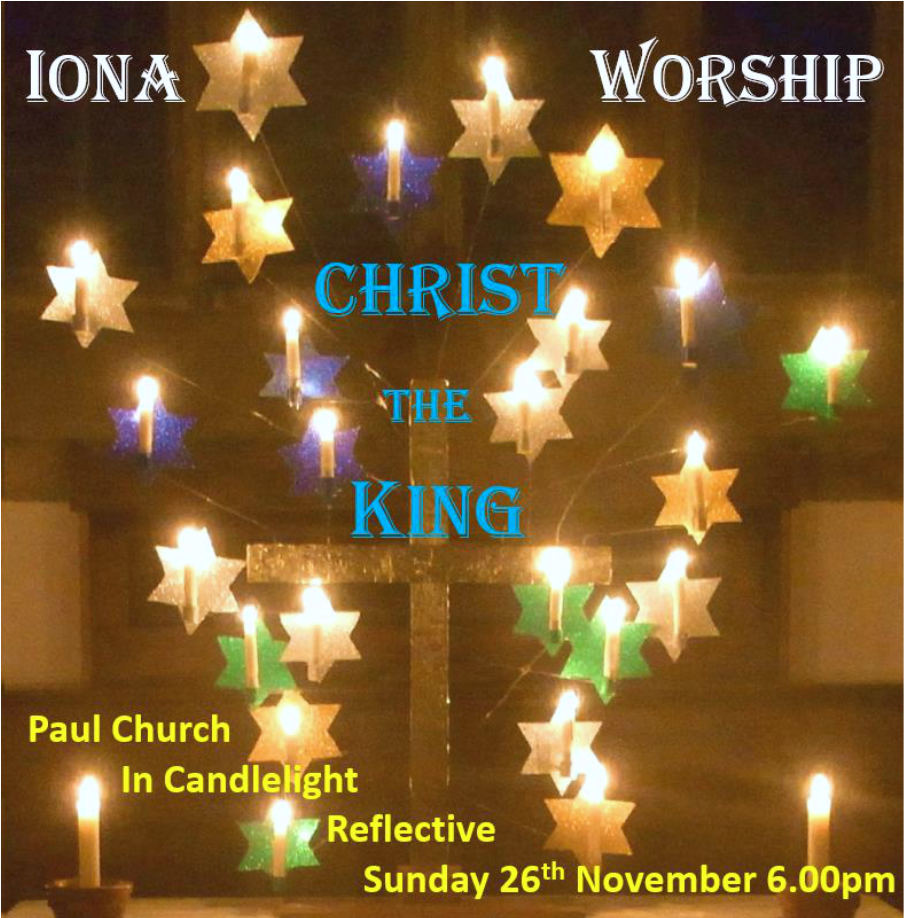 ---
Introducing our new Family Worker
My name is Jane Haskings and I am so very pleased to be the new part time Family Worker at Penlee Cluster. I have lived and worked in Cornwall for 11 years now, being originally from South West London. I began my working life in the social housing sector as a Housing Officer, gaining my Institute of Housing Qualification. I worked for many years for London Housing Associations, then moving across into Homelessness, Housing Advocacy and legal Advice work. It is not the first time I have worked at a church site, being pleased to work from St Anne's Church in Soho, Westminster . At St Anne's I was a Housing Advocate, for people in later life. The small courtyard peace Garden there is a tranquil quiet Oasis, in the very heart of the big City.
Since living In Cornwall I have been involved as an advice worker for Age UK and enjoyed my worked in Cornwall library service, delivering Storytime, rhyming, craft and nature sessions. More recently working as a Navigator at Coastline Housing, organising community events and enabling Customers voices to be heard at Board level.
I also have a creative life studying art, floristry and metal work alongside the occasional Samba Band drumming. As a keen community focused environmentalist I enjoyed the Truro Diocese Creation Care course. I love walking and gardening, dealing with my apple harvest ! I like to be involved in community activities that support the transition we are all facing, to a low carbon future in the face of the current climate and biodiversity emergencies.
Living by the sea in a strong community is important to me, having been raised in the Church community and volunteering throughout my life. My own parents were my inspiration being war time adults, in learning how to make and mend and grow my own and not to forget neighbourliness. Part of my family are Greek Cypriot and I wish you all 'peace' in Greek. I am looking forward to my new role as part of this very committed and caring community of the Penlee Cluster.
There is indeed no more urgent a time for community action to come forward with the challenges that our World is currently facing. I like to use the inspirational words of anthropologist Margaret Mead
'Never Doubt that a small group of thoughtful committed individuals can change the world, in fact it's the only thing that ever has' .
---
Christmas Holiday Club
WINTER WONDERLAND
Wed 20th Dec, Thurs 21st Dec, Fri 22nd Dec
Paul church hall and surrounding area.
We are really looking forward to our Christmas holiday club and have lots of exciting activities planned. A perfect time to create memories with friends. We will take 12 children from each of our link schools. Children must attend all three days.
If you think you can help with craft, swimming, games or meal preparation on Thursday or Friday please contact Molly.
---
Christmas Day lunch 25th Dec 12.30 – 4pm St Mary's Pz.
We are so pleased that this is being offered again this year. If you want to attend, help out or could provide hot Christmas lunch food please contact Keno.
---
In Concert at Paul church
Will Keating on Wednesday December 6th 7pm
Tickets £10 in advance £12 on the door.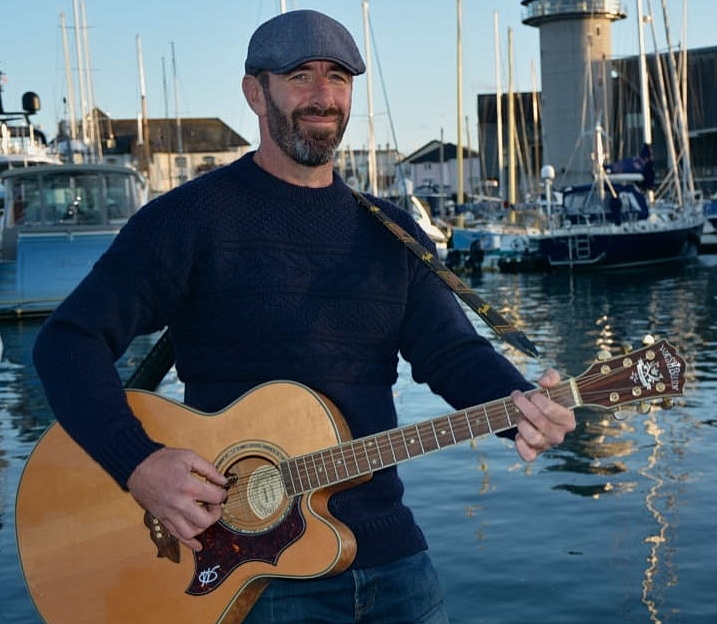 ---
Paul Sound System Installation
Hopefully this will happen between Nov 28th and Dec 1st. Church activities may need to be cancelled or moved to the hall.
---
Mousehole school RE week
Mousehole School will be holding their RE week beginning December 4th. If you would like to help with this please contact Andrew for more information.
---
Eco Church – more food tips
Fairtrade helps us on our journey towards becoming more environment friendly as churches and in our own life styles.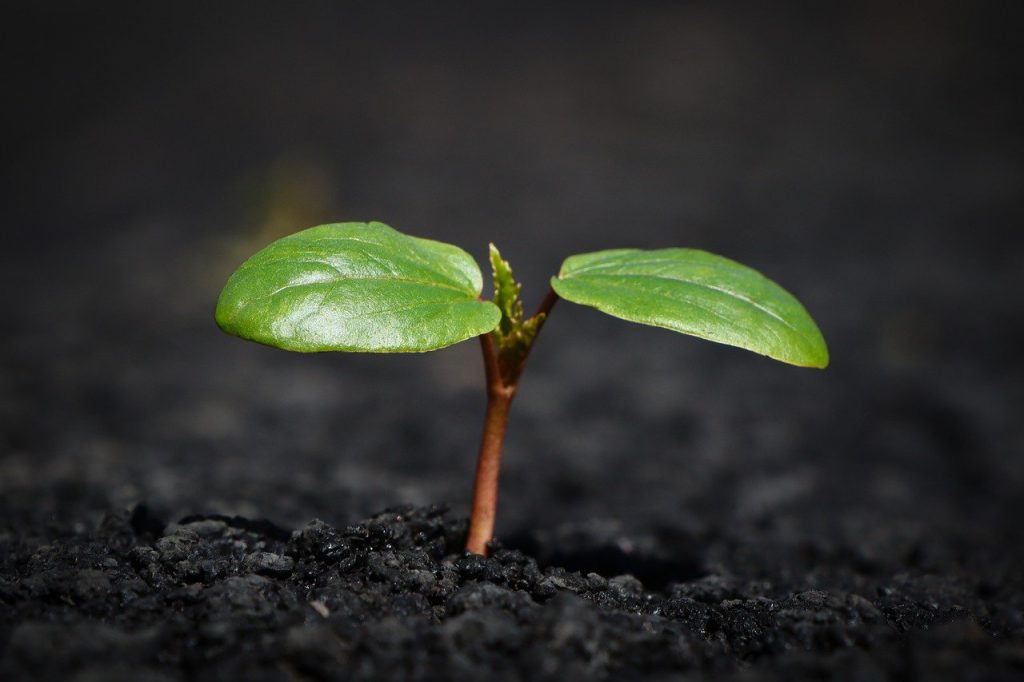 The LOAF Principles to buying food.
L is for Local; O is for Organic; A is for Animal-Friendly, and F is for Fairtrade.
Buy Local to cut down on food miles and help reduce your Carbon footprint. Purchasing from local suppliers keeps the money in the local economy supporting local businesses.
Organic growing works with and not against nature. Organic growers feed, nourish, cultivate, protect, and encourage the soil – for soil is a teeming bio-diverse community, which includes humans, God's responsible representatives, as large soil organisms.
Animal Friendly. Farming is becoming more intensive. Most chickens raised for meat live for only 35 days in vast warehouses without access to daylight and many farm animals are now not able to express behaviours that are natural to them. Choosing animal products from higher welfare systems is an important recognition of their status as fellow creatures made by God.
In these times of cost of living increases there is an awareness that to choose to live by these LOAF principles is a challenge as many of them can be the more expensive option. So don't feel you have to apply them at every meal but make a conscious option to apply them when you can.
WASTE NOT Around a third of the food we produce is wasted, often ending up in landfill. There are many ingenious ways to reduce our food waste such as serving smaller food portions, using up leftovers, and being content with food that is less aesthetically pleasing (many supermarkets now stock imperfect looking fruit and veg). 
Check out the Love Food Hate Waste website for recipe ideas to reduce food wastage
https://www.lovefoodhatewaste.com/recipes
---