---
Bible Reading
Bible reading for Sunday July 2nd   Romans 6.12-end and Matthew 10: 40-end.
---
THE BRIGHT FIELD by RS Thomas (1913-2000)
I have seen the sun break through
to illuminate a small field
for a while, and gone my way
and forgotten it. But that was the
pearl of great price, the one field that had
treasure in it. I realise now
that I must give all that I have
to possess it. Life is not hurrying
on to a receding future, nor hankering after
an imagined past. It is the turning
aside like Moses to the miracle
of the lit bush, to a brightness
that seemed as transitory as your youth
once, but is the eternity that awaits you.
---
Contemplation in action
Daily meditations and reflection group Monday 8.30am on zoom. You are most welcome to join us for this discussion, please email teamleader@penleecluster.org.uk for the zoom link.
This week's meditations focus on finding God in Crisis. We ponder last week's daily reflections on this subject and how the thoughts for the day have impacted on us. What insights have we gained?
---
Welcoming Alice
What a wonderful summer evening to welcome Alice into our church community! An expectant multi generational gathering from across Penlee Cluster gathered on the Feast Day of St Peter's at Newlyn church. Relaxed, joyful and expectant. Alice, through the sacraments of baptism and confirmation, was going to affirm her desire to become a follower of Christ. All whom gathered prayed that God the Holy Spirit would indeed fill her life and heart for the rest of her days.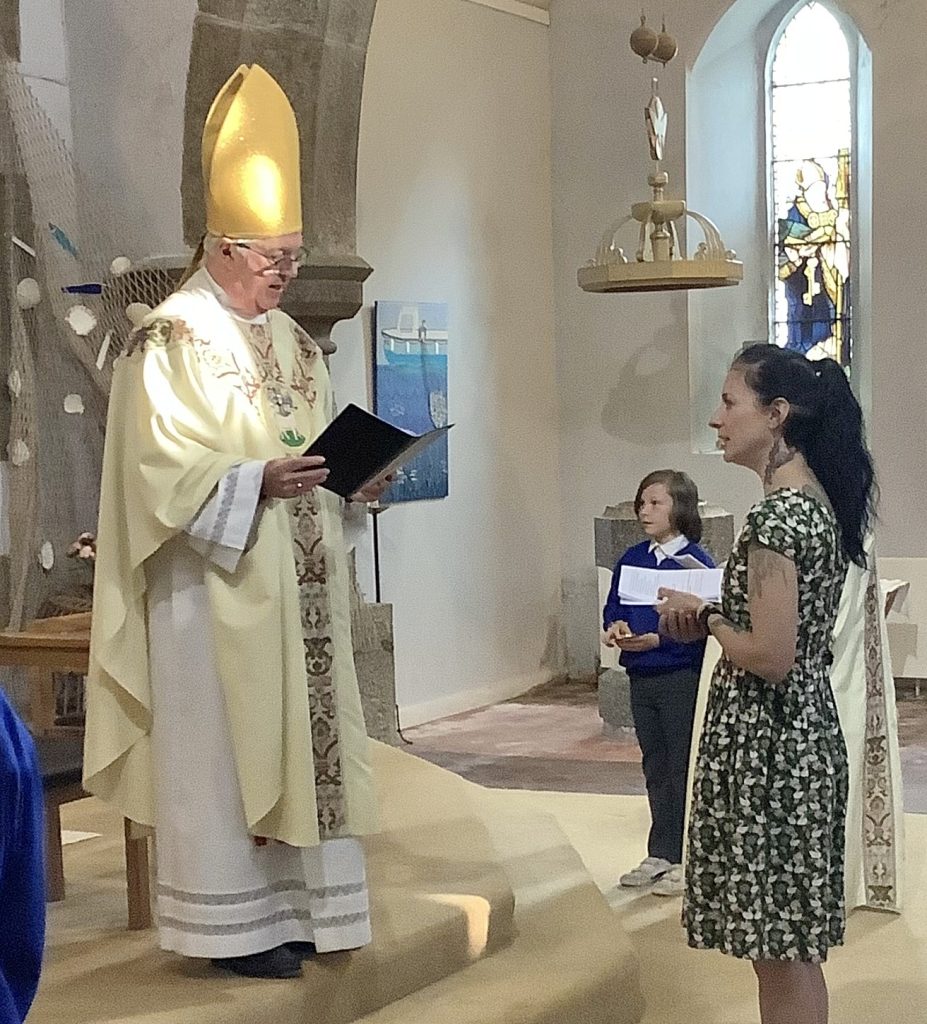 Reader John, who had died just a few days before, had prayerfully chosen hymns for the occasion wanting both Alice and the gathered church to experience through music times of quiet waiting upon God as well as hearts lifted confidently in songs of Praise: "How great thou art". We sang with gusto knowing that "nothing, not even death, can separate us from the love of God".
We were so blessed by having Bishop Graham James to lead this act of worship. He knew the area well having been a bishop in this diocese before becoming bishop of Norwich. Passionate and caring about his native Cornwall he reminded both Alice and worshippers that God asks us to step out in faith throughout our lives and it is fine to make mistakes as we "take the plunge" with God. God always forgives and accompanies us so that we can live out our Christian life fully and spectacularly.
Many people played an active role in the act of worship offering their gifts to God and others. The music was beautiful (thanks Kevin and the choir). Reader Lesley sang a song about seeing God in all based on the St Francis "Canticle of the Creatures", which she had written and composed. Young people from our church school sang and helped throughout: nine year old Jax taking on the role of "bishop's chaplain (or helper)". Alex was photographer on duty and we look forward to him making a video clip of the occasion as a keepsake of this event.
Alice was radiant throughout, supported by many family and friends. And her dad and husband could not have been prouder of the faith and life decision that she was taking: confident and thoughtful…and expectant of God the Holy Spirit.
We are so grateful for people at St Peter's for providing a wonderful buffet which gave us all an opportunity to chat with old friends and meet new people. Both Alice and Bishop Graham used this party time to have great conversations with all who had joined in this memorable act of worship.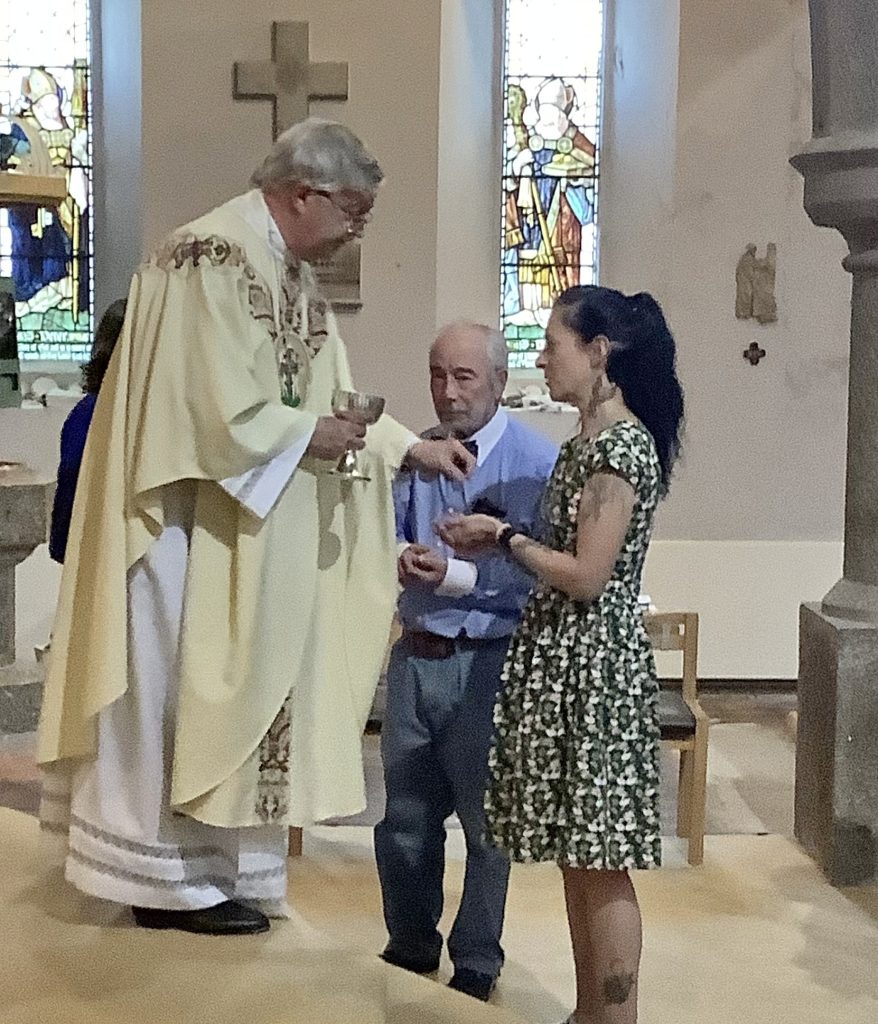 ---
Caring for our planet
Reducing our carbon footprint. At the moment we are exploring ways to reduce our churches' carbon footprint. We are exploring the possibility of fitting solar panels on our church roofs but it is proving to be quite a challenge. We are also exploring the resources that the diocese have produced. The diocese of Bristol are looking at a new type radiant heating solution and we are checking this out. Please pray and reflect on reducing our carbon footprint as communities of believers.
This video clip "touch the earth with gentleness" is a good personal resource to use as you pray. https://youtu.be/R3Z5JeVET2k
---
Summer holiday clubs for young people
Well we seem to have a problem that the church rarely has these days. Too many children having booked onto our very popular 4 weeks clubs. Many of the children are "returners": children that have been coming to holiday events for years and they are looking forward to an action packed summer. So we were unable to open our online booking on Monday morning as we were already oversubscribed! Too many children presents so many issues not least mini bus drivers. We have use of three buses but without three drivers they will not be much use. We would also have to have more staff and volunteers…as well as a bigger budget to run the events. We are working very hard to find solutions and will keep you updated. But please spare a thought and hold in prayer the holiday club planning group sorting out this stressful situation. And Suggestions and Help please.
---
Death of Reader John Wallis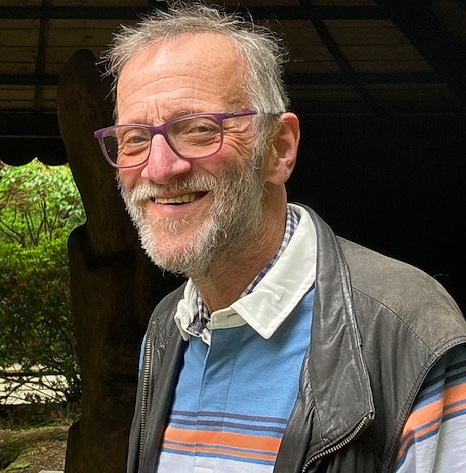 From Sue Wallis.
Hi everybody , I am so sorry to be a bearer of bad news, John passed away last night after a hard 2 year battle … What I have always loved about my John is that he always has been a giver never a taker ..He will be so missed by us all, thank you all for support with his daily posting it made his day through rough times. Thank you all so much for all your caring comments and messages. John's funeral service will be held on Thursday 20th July at 11:00am at St Mary's Church, Chapel Street, PZ. John said for people to wear cheery clothes and donations rather than flowers to the Sunrise Appeal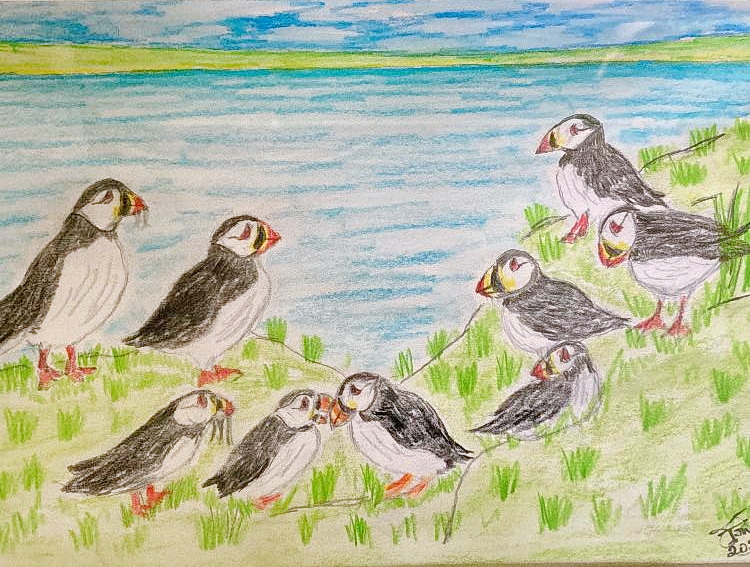 ---
Mazey day – An amazing day
A huge thanks to all who helped and took part in Mazey Day last week
"What a wonderful Mazey Day it was! Didn't take any photos, sadly (too busy being photographed myself). Took part in a lovely acoustic get-together in St Mary's churchyard with Steve Mackereth, George Dow, Jack Bennett, Angela Stoner, Ashley Cohen and others for a lovely Norway Square (St Ives) vibe. Loved it when George kicked us off with Ain't No Grave Gonna Hold This Body Down (while surrounded with the things).Can I also say what a wonderful Mazey Day effort St Mary's Church (Penlee Cluster) put in. Cream teas, barbecue and a bouncy castle actually INSIDE THE CHURCH!" poet Gray Lightfoot
"Wasn't the bouncy castle a BLAST! Loved the cream tea, the chat and calm in the mayhem and the venue above the Yacht, above the sea…could EASILY match or outstrip Norway Square". Angie Butler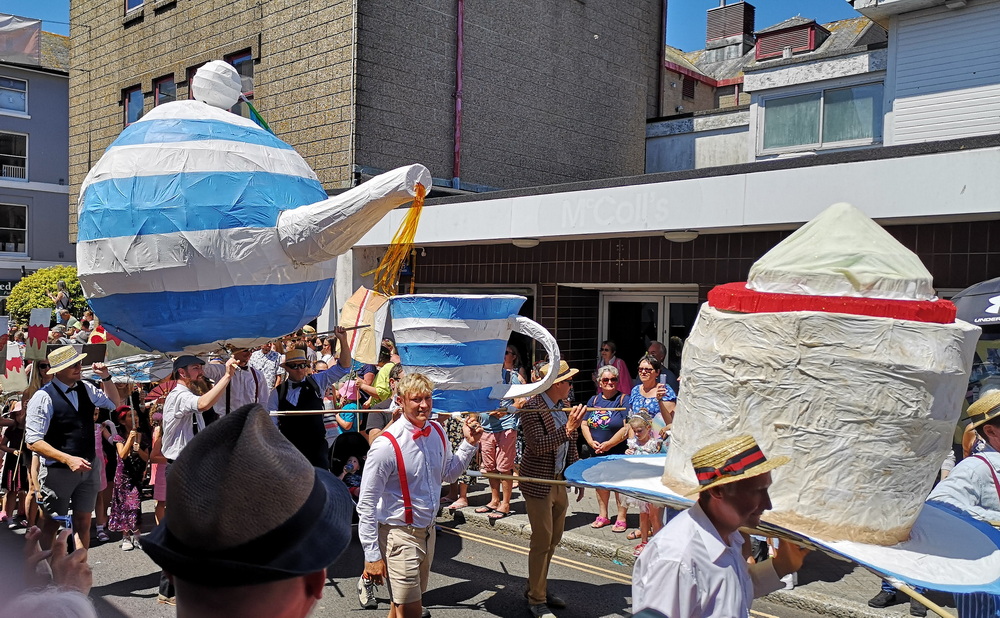 ---
Supporting of the elderly
Chypons Residential Home
Today is the first Sunday of leading worship at Chypons Residential Home since the start of the pandemic . We thank God that once a month we are able to visit and pray with the residents and staff.
Hold in your prayers the worship leaders who will be going there this Sunday morning.
---
Roast Sunday Lunch
Roast Sunday Lunch will not be happening today (2nd July) at St Mary's church Pz. However , it will happen on Sunday 9th July instead, the dish washer might just be fixed by then! Sunday lunches are always a fun welcoming time …and the food is pretty good too! There is no fixed charge but you can give a donation if you like. More importantly, come along, bring a friend …and sign up in advance if you possibly can.
---
Paul Summer Talks 2023
"We protect what we love" The children's nature photography project. Tuesday 4th July, at 7.00pm
In this talk Dr Jones will share pictures and stories of our local beautiful surroundings by children from two local primary schools. The children themselves will contribute to the talk and discuss why they like it and why it matters.
St Pol de Leon Church, Paul, Penzance TR19 6TZ
£5 entry includes a glass of wine.
Children free.
7pm drink and 'nibbles'. Talk begins at 7.30pm, followed by a fluid informal session – more nibbles, and wine on sale. Proceeds are shared between the church and a charity of the speaker's choice.
Dr. Lynne Jones OBE is a child and adolescent psychiatrist, writer, and relief worker. Jones has been engaged in assessing mental health needs and establishing and running mental health services in disaster, conflict, and post-conflict settings around the world since 1990. She is an honorary associate professor at the Centre for Global Mental Health at London School of Hygiene and Tropical Medicine, and consults to WHO and UNICEF. EVERYONE VERY WELCOME
---
Mosaic

Devon & Cornwall Regional Conference
How do we flourish in a church with barriers?
Thursday 20th July 2023
An Evening Conversation on Zoom
7pm-9pm ALL WELCOME Keynote speaker: Revd Tanya Hockley-Still (UKME Adviser, Diocese of Exeter)
To register and receive Zoom link click HERE (After registering, you will receive a confirmation email containing information about joining the meeting)
For more information, please contact your local reps
Devon: Tim Collins Revtimpaul@btinternet.com
Cornwall: Anne Brown Atlanticcoastcluster@btinternet.com
Andrew Yates Paulpriest@penleecluster.org.uk
---
New Penlee Cluster Web site.
We are hoping that within the next two weeks our new website will be up and running. A huge thanks to Erwin and Chris for all your creativity and patience. The old website was 10 years old and it has served us well as we entered the electronic age.
The new website should be easier to use on mobile phones. It should also be easier to find things and be more attractive. We will get some help from Chris, Erwin and Alex about how to access it and also how to write articles/ blogs which can be uploaded.
---