Revd Andrew Yates speaks to Radio Cornwall,
I had an opportunity to speak to James Churchfield on Radio Cornwall this morning about our Summer Holiday Playscheme in Penlee cluster of churches under a series they are running on Holiday Hunger.
I was able to remind him that our community in the Penzance area has the highest level of deprivation in Cornwall and that the cost of living crisis has impacted families but also on community groups such as ourselves. Our food budget for this summer holiday club has had to DOUBLE from 2022 because of increase in costs of basic ingredients.
Parents with children on Free School Meals (FSM) are suddenly faced in the holidays with having to find the additional cost for lunches every day and of course when people are at home all day they eat more. A integral part of our Summer holiday provision is eating good food together. Adults, young leaders, volunteers and children all sit down together to enjoy a good healthy meal cooked on site in the middle of the day. We also provide breakfast on arrival in the morning: popular toasted bagels, toast, fruit and sometimes pancakes. And we end each on-site day around our camp fire, sharing highlights of the day, thinking about next day plans, sharing something like fruit, an ice cream or cake that some kind volunteer has dropped in for us!
The needs for our children are not just food. They need and deserve summer holiday fun. So we have an action packed programme weekly theme based on a Wild About: wild about Adventure, wild about camping, wild about Cornwall, wild about film . The children need to have stories of exciting things they have done over the holidays to share when they go back to school in September. They need and deserve an action packed summer experiencing new things, having fun with friends, doing active things that they might enjoy. Our summer camps take place in Paul, at the far end of Cornwall overlooking Mounts Bay and the meadow is a great place for overnight camping. We have many off site activities booked this year : visit to EDEN, to Drake Island in Plymouth, biking on the camel trail, boating and fishing, to name just a few.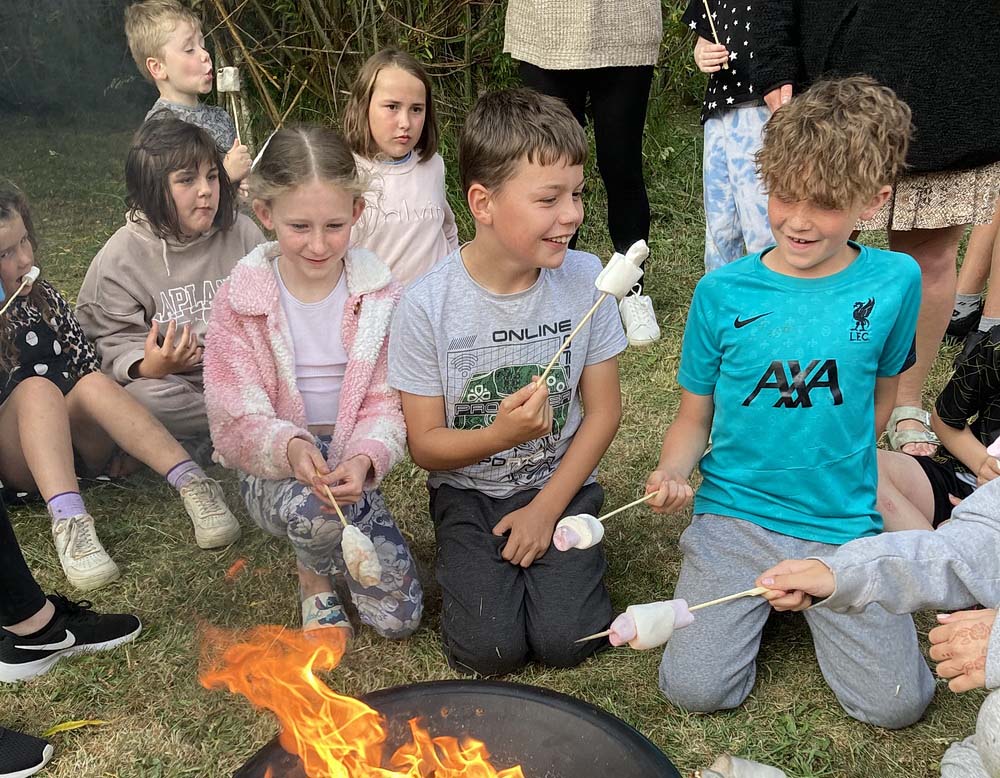 Working parents also need help with childcare costs over the holidays especially those whose income is just above the level that would entitle them to benefits. So thanks to a grant from Cornwall Council's "Time 2 Move programme", other local funders and generous financial support from members of our church congregations we are able to offer free places to FSM children and highly subsidised or free places to the others.
Our 30-place camp has now had to increase to 40 child places because of the demand. And we have had to limit some to coming for just one week out of the 4. So extra staff, transport and money need to be found. We have just a few places left because of a few children now not needing a space: Search TIME2MOVE Cornwall ONLINE
We also make space for ten 12-16 year olds each day who join us as junior helpers. These young people gain leadership and life skills. Team building and working alongside others are all part and parcel of the experience. There is also opportunities for them to gain a qualification in food hygiene and the like. This year some of them will attend a barista training and fish filleting training. All this helps them into the eventual world of work. We also provide times and opportunities for this teenage group to have fun days out together too.