'It is wonderful for us to be here.'
Bible reading for this week: Luke 9: 28-36. 2Peter1: 16-19
In the Gospel, as in all the synoptic gospels (Matthew, Mark and Luke), the account of the Transfiguration occurs as Jesus is about to make his final journey to Jerusalem and to the Cross. His imminent tragedy is seen through a vision of the glory that is to come. In the reading from 1Peter we hear of God's promise of 'a lamp for lighting the way through the dark until the dawn comes'
I wonder where we find that "lamp" that helps us in the struggles and the darkness of the world's news? Where is the Hope?
---
Thursday 10th August Holiday club mission and prayer.
7pm in Paul quiet garden. Campfire, prayer and hot chocolate.
Join people around a campfire, or in the meadow overlooking the bay and over a hot chocolate as they pray for our holiday clubs and projects. We hold before God with thanksgiving the week that has gone and any prayer requests or issues that arise. If you can come to Paul, why not join us at that time in your own home and offer up much needed prayer.
---
Richard Rohr meditations "Healing our violence"
Building Beloved Community is not about loving the people who are easy to love. It is about cultivating love for those that are difficult to love. Those people over there.
Join us on Monday mornings via zoom at 8.30am as we reflect on the mediations of the week.
Contact Sian Yates for the zoom link.
---
Holiday club week 2, wild about Cornwall..memories
So this is Summer holidays! Rain, wind, grey skies. So what happened to the summer sun and sparking blue seas across the bay, one might ask?
Despite weather challenges we did manage most of the planned events. Dolphin watching on the Mermaid encountered the biggest waves and roughest seas ever…according to the children. Those who went to sea on a fishing trip certainly caught and brought back loads of fish. Despite gutting fish in the Paul church meadow we still seem to have a lingering smell of tasty mackerel in the hall kitchen. Sorry.
The Eden excursion was rather interesting…so many people in the biomes and no chance to play on the new adventure playground. For another day perhaps.
We had a wonderful rock pooling day with Dr. Ben from an environmental group exploring the sea line habitat.
In this themed Cornish week, we learned some Cornish and sang some songs, thanks to Roz and her friend. We made very tasty pasties and scones, and we know that the jam always goes on before the cream ! Proper job. Thanks to the Paul helpers who provided lunch on Tuesday and Alan who helped William with the BBQ on a very wet Monday….and of course Jane who keeps us all tidy and clean.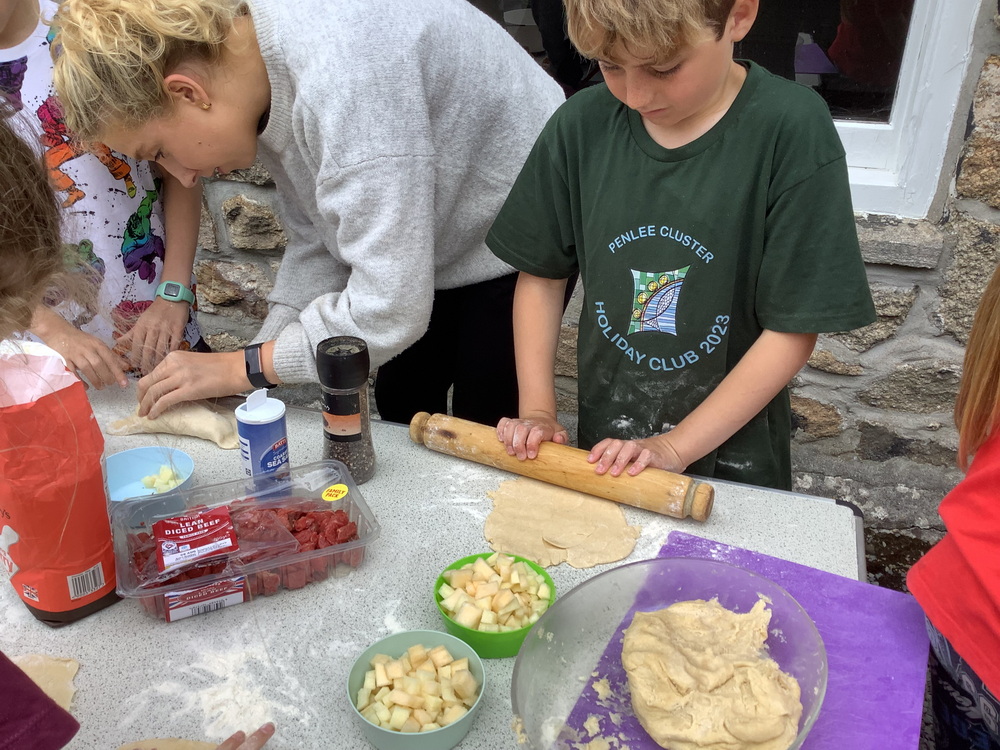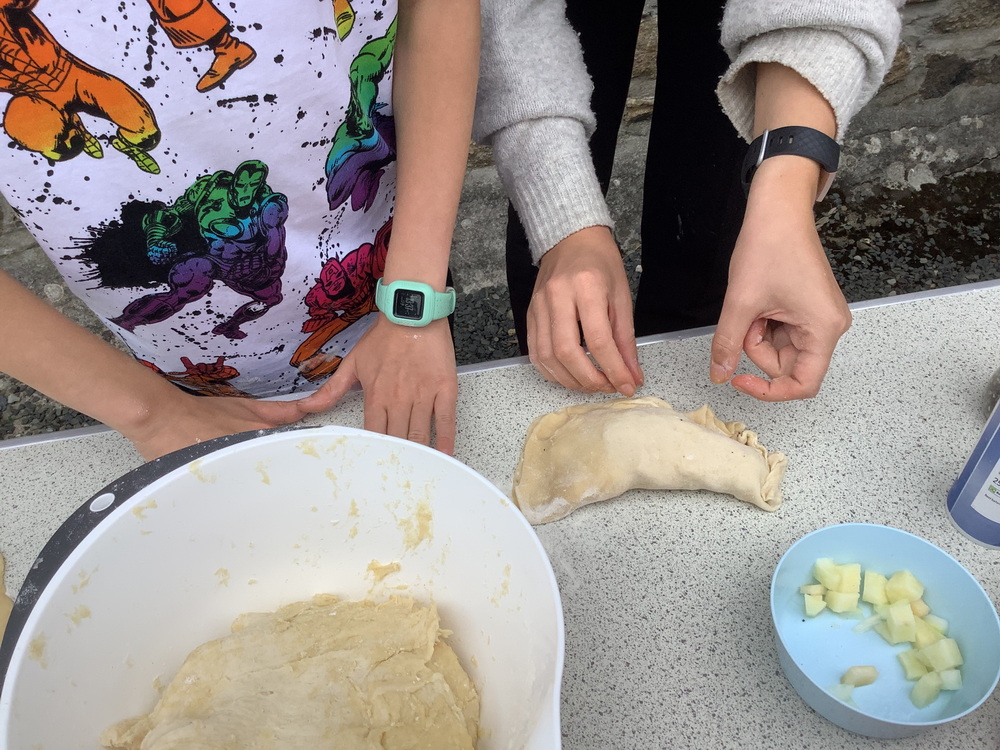 ---
This week's holiday club. Wild about film.
This next week explores our creative side! Each group will be aiming to make a short film. One will be at the Morrab gardens and will be about seeds and plants that came in from across the world, another about pirates and one about a special egg. Monday sees a couple of people from the Minack theatre coming to work with us.
Playzone at St John's Pz
12 noon to 2pm and 2pm to 4pm: Monday to Thursday.
The playzone during school holidays is a space for children to bring their parent/carers. It's a place to play, try some craft activities and have a sandwich lunch for free.
Thanks to all those of you who have made sandwiches and cakes this week. And a huge thanks to Penny and her crew for being so accommodating and helpful…we couldn't do without you guys.
---
Website of the week
Thomas Merton in his own Voice "Do not try and cultivate a practice; simply be present with an open and loving heart". These words are from an audio recording from the 1960's of the great 20th century mystic and writer, Thomas Merton, teaching the novices at Gethsemani Trappist Abbey.
---
Preparation team for..
St Michael and All Angels 24 hour Prayer Event and NIGHT CHURCH.
From 12 noon Friday 29th Sept
We now have a 24 hour prayer plan….and many people to ask to take part to bring this amazing event about. The planning group will be meeting next Tuesday 5pm at St Mary's PZ and you are very welcome to join them.
We are expecting, as part of our "Bigger Table" to have fellowship meals throughout the 24 hours as well as different styles of praying and a whole range of music. Something for everyone as we hold before God those of us who live across this glorious bay overlooking St Michael's Mount and praying that through Night Church ministry we might reach out to people in dark places.
---
The Julian meeting
will be held in Paul church this Sunday at 6pm – and the link is below if you are unable to join us and would like to reflect at a more convenient time for you. With love, Mel, Judith, Virginia and Diana.
Shall I then lie drowned in night?
Might thy grace in me but shine
I should seem all made of light
Worldly joys like shadows fade
When the heavenly light appears
But the covenants thou hast made
Endless, know nor days, nor years.
Thomas Campion 1567-1620
Bible study
letters to New Churches
August 10th 11am St Mary's church PZ
"A Letter from Rocky (alias Simon Peter)
---
A greener way to heat churches
We had a very positive visit from Herschel representatives to our 4 churches on 2nd August. Presentations on the infrared heating option – to save both money and carbon emissions – were made to several members of each of the churches. Next step is for Herschel to provide proposals for each church in terms of suitability and cost, which should occur within the next few weeks. Full consultation will then take place with each PCC before any decision is made, with any key developments shared via the newsletter. There has been a huge level of interest across many dioceses following the trial installation in a Bristol church, so all of this sounds promising so far.' George Dow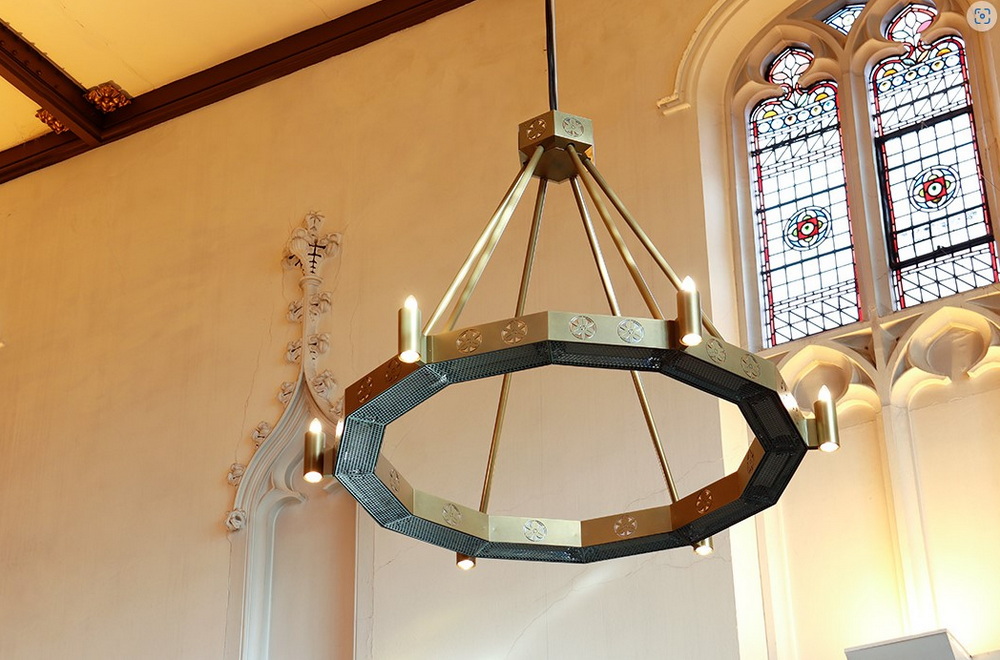 Here is a half-hour interview on Bristol Community Radio with the architect who designed the infrared "Halos" which are now being trialed as a new form of church heating in our church in Bristol. I know this topic gathered a lot of interest in Celink a few weeks ago. It's community radio, so there's a bit of music too.
---
Cathedral Gospel choir
Fri 11th Aug 23:7:30 PM – 10:30 PM tickets £32.
If you would like to go but find the cost is too much, we are able to fund the ticket by £15…as we are looking to use this event as part of our "research for Night Church." (Transport to and from Truro if enough people wish to go). Contact Vicky Howard or Keno if you would like to go so that we can purchase tickets.
Introducing… the choir that house built! An electrifying House meets Gospel experience that never fails to get the entire audience clapping, dancing and singing along! House Gospel Choir is a group of outstanding vocalists! Performing alongside a DJ, creating an effortless live fusion of the biggest house and gospel tunes that never fail to raise the roof!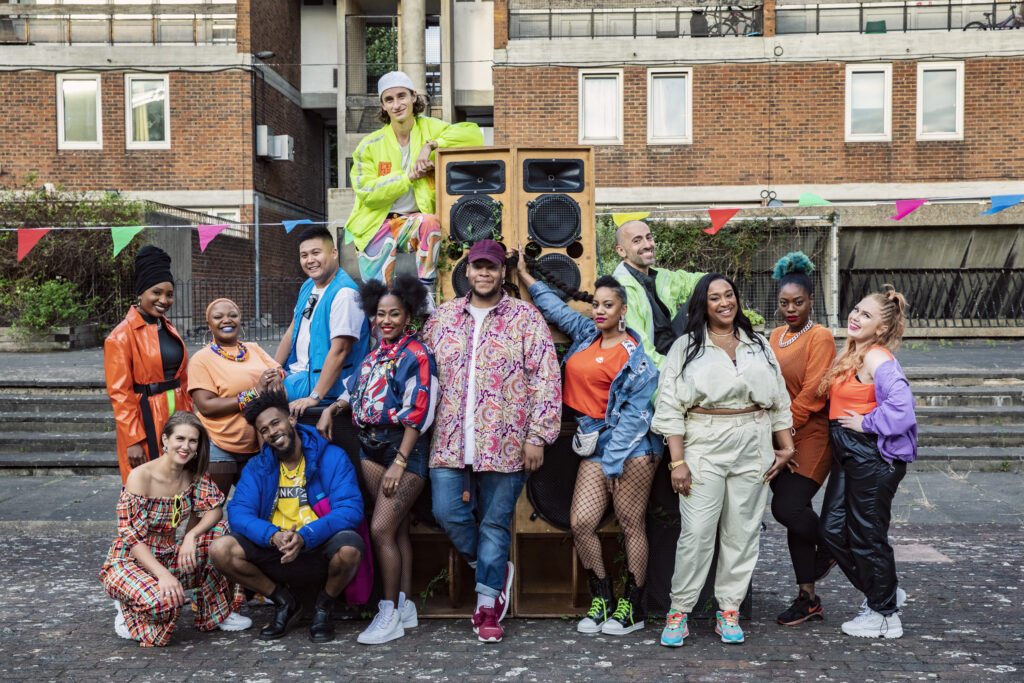 ---
Advance notice for your diary
ST MICHAEL AND ALL ANGELS: 24-hour prayer event: St Mary's PZ Michaelmas
From 12:00 noon on Friday 29th September until 12:00 noon on Saturday 30th September, St Mary's will be hosting a 24hr prayer and worship event to pray in our vision for 'Night Church' (more on this in due course).
---