Boundaries …and walls
Sunday readings: Romans 11: 13–15.29–32; Matt. 15: 21–28
In the Romans bible reading we hear a message that was written to the early Gentile church in Rome. It describes the writer's conviction that their personal conversion and belief in God would help to fulfil God's promise to bring hope to everyone, and not just to the chosen people. A challenging thought for many!
Today's Gospel reading presents an uncharacteristically abrupt Jesus initially rejecting the pleas of a desperate Canaanite woman. And yet it is this woman's determined faith and sense of humour that challenges Jesus to step beyond the boundaries of his initial mission, thus revealing the truth that his message of hope and healing is for all people – no exceptions….no boundaries here!
Can we recognise and have the courage to respond to people expressing their faith in surprising places and unconventional ways?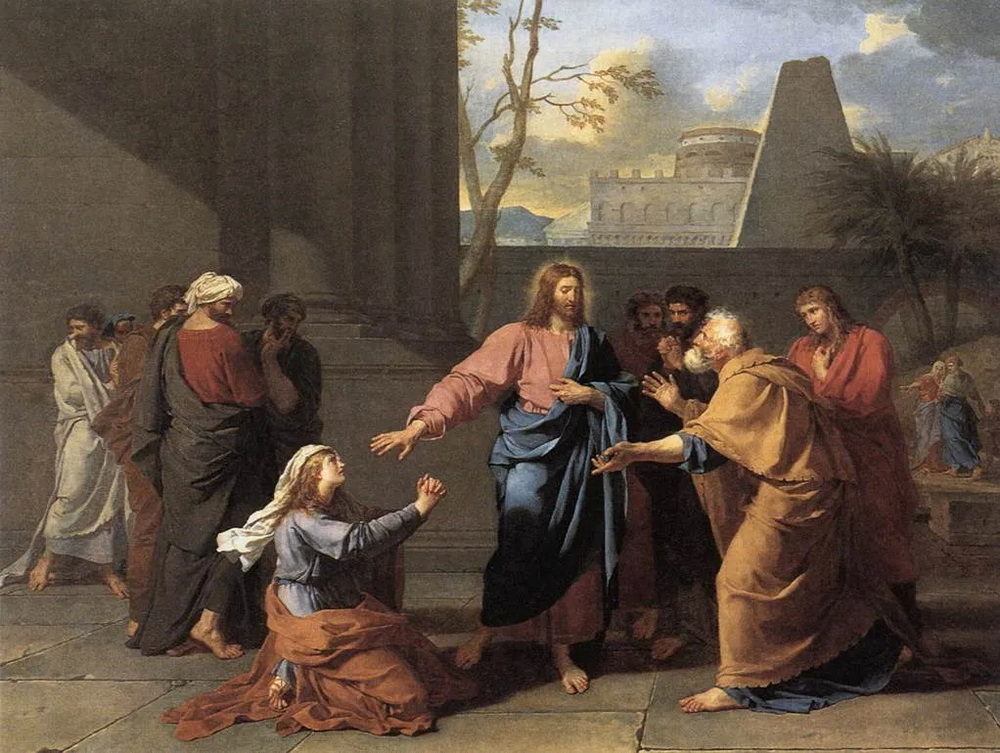 The Woman of Canaan at the Feet of Christ,
Painted by Jean-Germain Drouais (1763-1788),
Painted in 1784,
Oil on canvas,
© Louvre Museum, Paris
A meditation time based on the Gospel reading.
Find a quiet comfortable place and re-read Matt. 15: 21–28
Imagine that you are in that story watching this encounter between Jesus and the woman.
What do I see and hear?
What do I notice about how Jesus and his disciples relate to this woman who is treated with disdain and rejection?
Spend a little time talking to God about what you noticed ….and spend silent time listening.
Now think about how you would feel in that woman's shoes, hoping desperately for help for my child?
How do you feel when you see her pleading on her knees and being dismissed by Jesus?
Are you shocked by Jesus' initial hurtful response?
Now ponder whether you or the community you are part of ever reject people in need.
Are you prepared to pray and talk to God about this?
Have you ever noticed faithfulness and the love of God expressed in people of other faiths, or of none? How do I respond to that?
Share your pondering with God.
---
Morning prayer each morning 8am on Zoom
We meet online each day to pray together and to think about the bible readings of the day. Through the prayer words from the Iona community in Scotland we place our concerns and hopes for the world before God. We are upheld by God and each other knowing that we will walk that whole day in the presence of God who walks beside each of us and who we see in the encounters with others. If you would like to join us from time to time, please contact our administrator Keno for the zoom link. admin@penleecluster.org.uk
---
Julian meeting
The Julian meeting will be held on zoom this Sunday at 6pm.
If you are unable to join us and would like to reflect at a more convenient time for you, the prayers are below. With love Mel, Judith, Virginia and Diana.
God is the friend of silence. See how nature—trees, flowers, grass—grows in silence; see the stars, the moon and the sun, how they move in silence … The more we receive in silent prayer, the more we can give in our active life. We need silence to be able to touch souls. (Richard Rohr)
---
Would you like to send a prayer request?
Members of The Prayer Request Groupreceive a prayer list every week which they pray in their own time. All information is confidential to the group and not shared, and the members' names are not circulated within or outside the group. If you would like to send in a prayer to add to the list, or to join the group, please contact Mel on 07775 637606 or mlevesconte@hotmail.co.uk
---
Two Farewells
This week saw us bidding farewell to two stalwart members of our congregation, John and Julian – bittersweet occasions, as we mourn their loss to our church family and grieve with Alma and Phyllis, yet rejoice that their passing was swift and their faith in God's eternal love steadfast and radiant.
As ever, many present would have learnt new things about each of these two dear folk as tributes were paid to them. In a delightful touch from his uncle, on Monday we were presented with a question of identity regarding John: was he John William Hartley or William John? It depends, apparently, on whether you believe his birth or his marriage certificate! Anyway, among us he was John – a gentle quiet presence in our midst, but a man who had spent a lifetime following the teaching and example of Jesus, whom he had served faithfully since his early teens. Here in Penzance in his latter years, he had made a huge contribution to the various ministries of Churches Together in Penzance – in the Street Pastors and Breadline, as well as supporting the Food Bank and our Cluster Holiday Clubs. He was always generous with his time and his resources. In these last weeks he was also excitedly supporting our vision for Night Church here in Penzance – faithful to the last!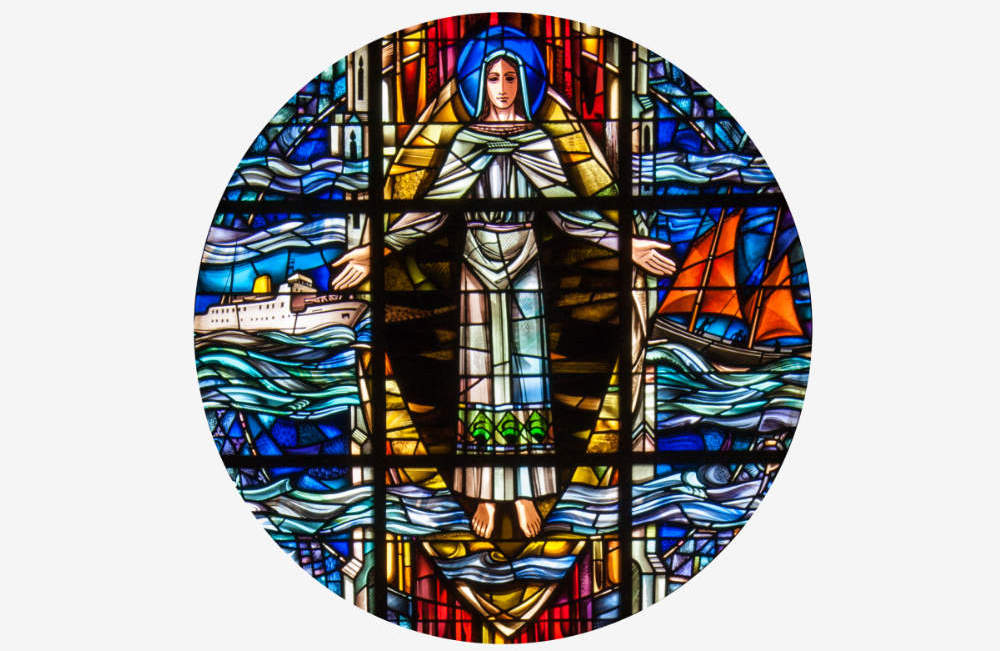 Although Julian's passing was also sudden, we had all known how very poorly he had become. He wrestled with his cruel and debilitating illness with quite extraordinary patience and courage. He must have been frustrated by his increasing incapacity, because until he became ill he was as active in our church as he had been in London. He was in the thick of all our Cluster community projects, notably being faithful in delivering fish and chips each week to those who were isolating during Covid, even when he had begun to struggle with both his speech and mobility. He never dwelt on his condition but focussed on others, which was in keeping with his lifelong love for people. At the funeral, tributes to his warmth and empathy and his generosity of spirit came from all sides. We had also marvelled at the positivity which he retained as his illness progressed. His assurance of being raised to life with Christ had clearly carried him onward to the end.
We extend our heartfelt sympathy to Alma and to Phyllis in their loss and pray that they will feel enfolded in God's love at this time. As we say goodbye, we can surely hear in our hearts the Jesus whom John and Julian both loved and served saying to them, "Well, done, my good and faithful servants!" May they rest in peace and rise in glory!
---
Immersive Prayer Spaces
24-hour Prayer: 29th September
Things are steadily coming together for our St Michael and All Angels 24-hour prayer event, which, in addition to a programme of worship and meals throughout, will feature immersive prayer spaces, each with a different theme. One of these spaces, 'Rest', will be lined with white fabric with strings of white paper doves hanging from the ceiling. If you would like to join us in making paper doves, we will be meeting at St Mary's at 3pm on Tuesday 22nd August and would love to see you there.
We would also be very grateful if, over the next few weeks, you could bring in foraged hedgerows, dried seed pods, ferns and autumnal foliage.
Finally, each prayer space will be linked to a bible verse which we hope to display in frames; do we have a calligrapher among us?
Please do speak to Victoria or Alice if you have any questions or would like to be involved; the planning team meet on Tuesdays at St Mary's at 5pm.
Alice Phoenix NightChurchPZ@penleecluster.com
Michaelmas blackberries
Can you help? from 29th September
It seems that in some hedgerows blackberries are already crying out to be harvested! We really could do with blackberries for our 24-hour prayer event that is full of times to eat together throughout the day.
So might you….go on a blackberry hunt…then either, freeze your blackberries, make blackberry jam for us, make blackberry muffins or cakes for us ( and freeze them until Sept 28th)
You might, of course, have other blackberry recipes and food to share with us.
---
Reconciliation with Archbishop Justin.
On Thursday 6 July 2023, Archbishop Justin delivered his annual keynote address on reconciliation. His speech focused on young people and equipping them as peacemakers and reconcilers.
In the address, the Archbishop emphasized the importance of empowering young people to lead peace efforts – both for their flourishing as well as for the Church and the world as a whole – that is at the core of the Christian story and mission.
---
Website of the Week
Ephphatha! 'be opened'
The liturgy at this time of year includes the incident where Jesus heals the deaf and dumb man, using the Aramaic word, ephphatha 'be opened'. When Jesus' original Aramaic words are used in the Gospels, the Evangelists wanted to emphasise the original power of Christ's original utterance. They are used deliberately to underscore the intimacy of the moment and the personal relationship of Jesus with the one with whom He is communicating.
When we are spiritually and emotionally paralysed, unable to receive God's love and cut off from the spiritual energies within our souls, we need to allow Christ to whisper into our depths – ephphatha! For a moving and encouraging reflection on this theme visit.
---
Holiday club week 4
Wild about camping
What a week!….and the sun did actually come out to remind us that the summer holiday is here. Some youngsters encountered the scariest moments of their lives and lived to tell the tale: zip wire across a quarry, an adrenaline swing from a great height across water, a spider in a tent (a black widow they were convinced), the darkness of a night spent under canvas, eating food from another culture.
There were times of just real childhood pleasures. Rock pooling, splashing about in jubilee pool, playing in the meadow and riding bikes, ice creams, playing with friends, marshmallows and hot chocolate around a campfire, evening BBQ.
For our children it was a carefree action-packed holiday week. They played in the woods and made campfire pizza. They went to a performance in Penlee Park theatre. They walked the coast path to Lands End. With the sea glistening in the bay and with views of St Michael mount from their tents what a great way to spend a summer holiday.
What a relaxing way to spend the school summer holidays. Not sure why the staff and junior leaders looked so tired at the end of camp!!
Thank you to everyone who made this experience for children possible in so many wonderful ways. Thank you for your support and your prayers.
---
Paul summer talks
On the 5th September we welcome back Jane Johnson, bestselling local writer and publishing director for HarperCollins. She has a new novel out this August, set in 1950s Casablanca and rural Morocco, which she knows so well. She will be talking about living between two cultures, about collaborating with her husband Abdel over THE BLACK CRESCENT, and about balancing writing with publishing.
7pm £5 includes wine and nibbles. All welcome.
Photo: Jay Johnson
---
Cornwall Faith Forum
Our next gathering at the Dor Kemmyn Field at Penmount will be held on Sunday, 20th August at 2.00 pm for the Pagan Festival Lammastide. We do hope you will be able to join us. It will also be an opportunity to view the newly installed faith poles for those who haven't seen them. If you would like a lift to the event, please speak to Andrew.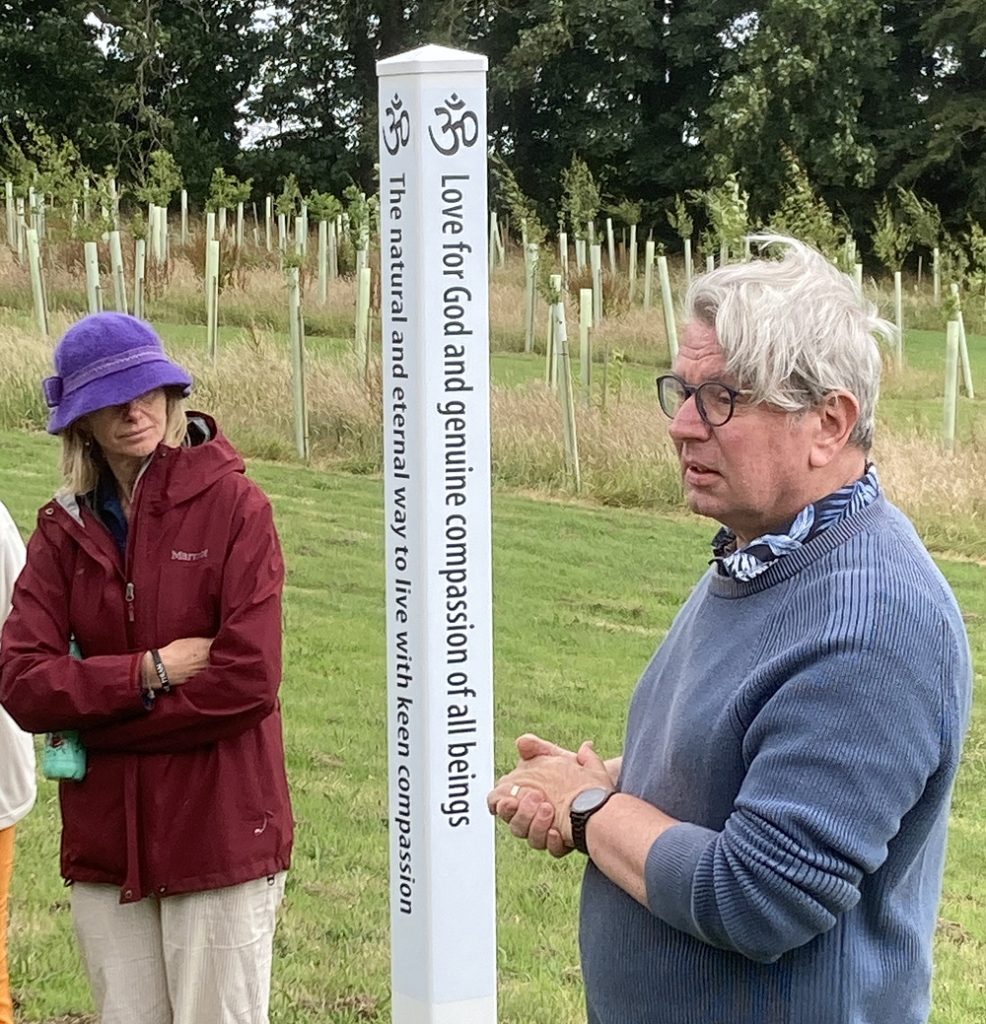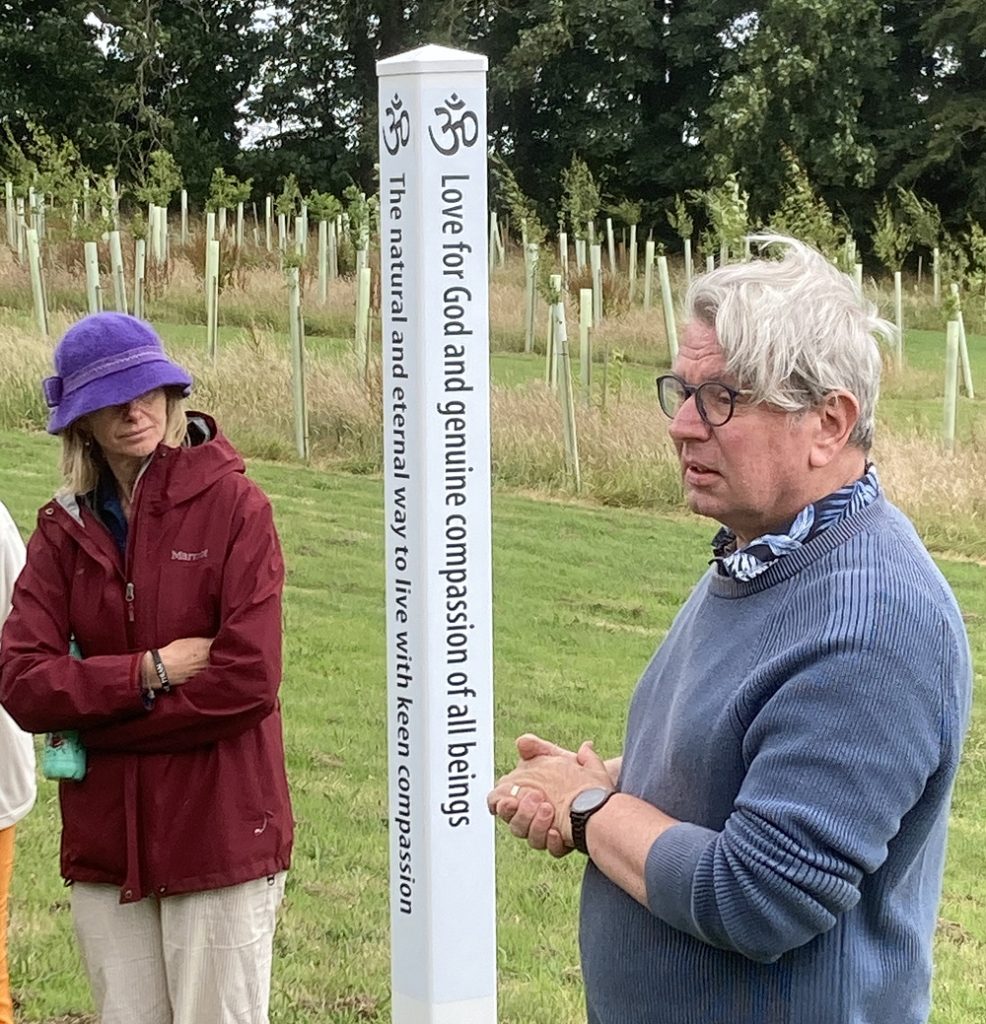 ---
A New Dean
We are delighted to share the news that Downing Street has today announced that His Majesty the King has approved the nomination of @RevSimonR as the next Dean of Truro. A video message from the new Dean can be viewed on YouTube.
---